I'm long Berkshire Hathaway ($BRK-B) and have been for awhile.  This week the news of Warren Buffett's stage 1 prostate cancer forced everyone to take another hard look at their positions in the stock, even though the market understands that Warren is 81 and that his condition has a 99% survival rate.
My friend Chess n' Wine, one of the best technicians on the web, took a look at the longer-term price action today.  I thought this was a very interesting take:
In the meantime, though, there is no denying that Berkshire is a bonafide empire full of cash cows with moats galore. The market may or may not need to see the replacements emerge and prove themselves, but technically Berkshire is building towards a resolution. As you can see below on the weekly chart of BRK-A, the early birds looking for an imminent breakout have been disappointed in recent years. The reason for the disappointment is because Berkshire is working through a massive symmetrical triangle. You can expect more backing, filling, and churning until we get the real deal breakout.

While the early bird special has been anything but, I expect the eventual breakout to be up and out. You are talking about four years worth of consolidation that will lead to that explosion, which should be a powerful one. While the future price appreciation percentages may not be quite as jaw-dropping as the past for Berkshire's shareholders, patient investors are not likely to be disappointed anytime soon.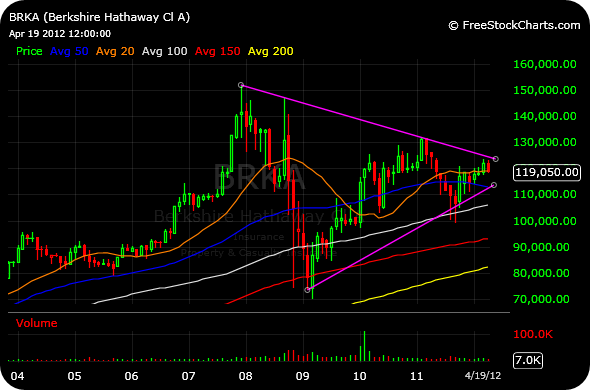 For obvious reasons, I hope he's right.
Source:
Berkshire's Early Bird Special Anything But for Old-Timers (iBankCoin)