Joe Weisenthal has a really compelling post up today talking about the fact that we could be shifting from a "jobless recovery" with high profits and poor employment to something more like a "GDP-less recovery" where employment rebounds but ends up sucking productivity and profitability down to the point where growth overall slows to a crawl.
This is arguably the iconic chart of the recovery. It shows corporate government and personal consumption (red) hitting brand new highs, while total employment (blue) lags badly from old highs.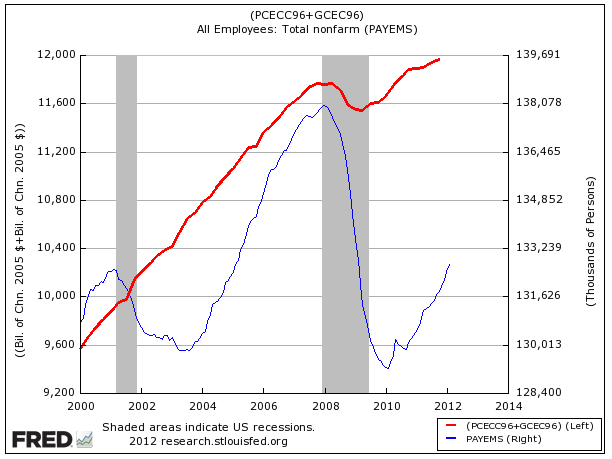 Joe's point is that the gap looks like it could be reversing and this may not exactly be great for corporate profits when it happens (labor ain't cheap).
I disagree to the extent that profitability becomes easier to come by when you're not dependent on technology and layoffs to get there.  Increased employment means more consumer spending and a faster velocity of money, which offers corporations (and their investors) an easier go of it and more ways to grow both sales and profits.  Just my 2 cents.
A New Paradox In The US Economy Could Mean Bad News For Investors  (Business Insider)