OK, the big news is that a messenger just showed up at Fusion HQ with the first hardcover copy of Backstage Wall Street.  Now it's actually a thing that exists in real life.  Behold!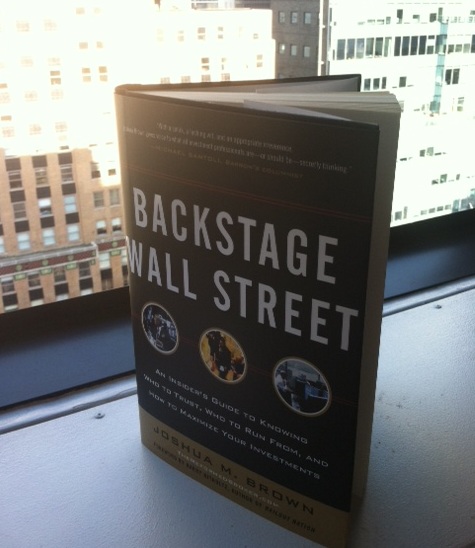 Holding this thing in my hands after a year of working on it is one of my proudest moments for sure…
But I have a bit of trepidation after skimming through the Amazon reviews of other recent finance books.  I looked at how the reviewers commented on Carl Richard's new book
(which is awesome), on Joe Terranova's book, on Lee Munson's book etc. Lots of great comments and feedback for the most part.
And then I came to Steve Cortes's book page
and I was absolutely blown away.  If you don't know Steve, he's a smart guy and appears regularly on Fast Money Halftime Report.  He's great on the show and knows what he's talking about so I'm sure the book is great too.
So I can't tell if this commenter is insane or dead serious or joking or what, but if this is the kind of thing I have to look forward to…
***
1 of 2 people found the following review helpful:
Absolutely the Best Book since War and Peace
,February 6, 2012
This review is from: Against the Herd: 6 Contrarian Investment Strategies You Should Follow (Hardcover)
Ok, first let me admit..I was concerned that this book would be written in spanish and that I would not be able to understand the lingo, but to my surprise the book was written in English and actually was brilliant in every way. I have been a trader for over 36 years and have never read a book that encapsulates every minute aspect of our industry and the challenges that face our humanity. Not only was the book full of insider industry information, it was also an homage to the United States of America. Steven Corte's pen bleeds red white and blue with every patriotic word. I do not know if Steven was originally born in this country, but he is possilby the greatest American since Ronald Reagan. His book was very easy to read for both trading professionals as well as those who are ignorant and oblivious to the intricate mechanisms of the market structure. Steve could explain heart surgery to a homeless man with his elegant and sophisticated verbage. In this book Steven has taken probably the most difficult topic since nuclear fusion and turned it into a child's coloring book. I admire Steven's courage to tackle such a huge undertaking, however as a former Bakers scholar I understand how he succeeded so brilliantly. My hat is off to Steven. He is a beautiful man, and finally has blessed the trading industry with his beautiful yet delicate prose. Congratulations Steven your lifes work has been completed, now you can lay your beautiful brown head on your pillow at night knowing you have given man kind a gift that would not have been opened if not for your talents and generosity. Steven Cortes, God Bless you, and God bless America.
***
Insanity.  But I can't tell if it's facetious or the ramblings of a madman.
Here we go through the gauntlet…I guess.