This is one of those charts that you almost feel belongs at The Onion rather than on Gallup…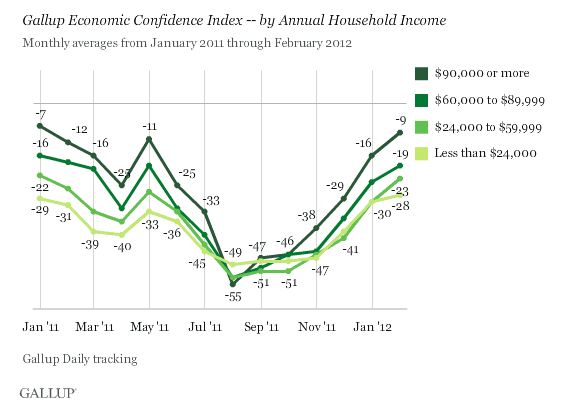 Sayeth the Pollsters:
Confidence Gaps by Income Widen in February

Confidence among the highest income group — those making $90,000 or more annually — has been improving at an especially fast pace in recent months. This marks a turnaround from the sharp drop in this group's confidence last summer. At that time, upper-income Americans may have taken the more than 2,000-point drop in the stock market — as well as the related debt ceiling debate crisis — the hardest. Middle- and upper-middle income Americans' confidence also tumbled at that time but has since rebounded.

As a result of the rebound in these groups' confidence scores, the pattern whereby the highest-income Americans show the most confidence and low-income Americans (those earning less than $24,000 annually) show the least has been fully restored to where it was a year ago.

With a -9 Gallup Economic Confidence Index score in February, the highest-income Americans' confidence is now moving close to positive territory, while, at -28, the lowest income group's still has some distance to go.
I guess because they're trying to show the gap between the groups it's not so silly…but still.
Source:
Economic Confidence Rises for Sixth Straight Month in February (Gallup)