I'm pleased to to point you towards this month's cover story of Registered Rep magazine – 'Staying Out of the Murder Holes'.  This is the first (and only so far) excerpt from my new book Backstage Wall Street currently available.
I'm very excited and grateful to my friends at Registered Rep, who took a passage from the chapter and turned it into their March cover, see below: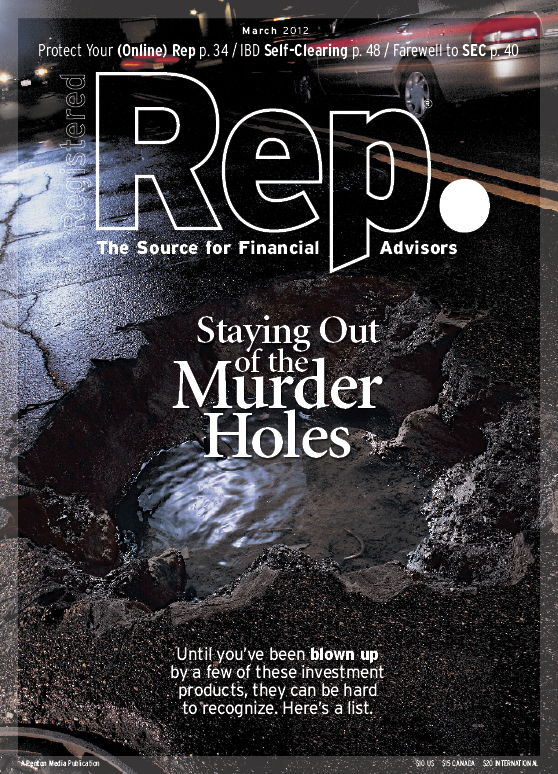 There are some stock market land mines that will invariably destroy anyone foolish enough to stand on them for an extended period of time.

My friend The Fly, an anonymous blogger who writes the popular if misanthropic trading website iBankCoin, has a term he likes to use for these. He calls them murder holes, and a more apt description for these investments couldn't be conjured if Shakespeare himself came out of a creative writing workshop and checked his portfolio. I think the term was (relatively) recently popularized when it was used in Saving Private Ryan, but it perfectly describes the types of investments we're about to discuss.

Until you've been blown up by a few of these murder holes yourself, it's hard to recognize them. Below is a list of the dark alleys you never want to wander down for your own future financial well-being.
Keep Reading:
Staying Out of the Murder Holes (Registered Rep)
Get the book!  Kindle or Hardcover
Read Also:
Confessions of a Reformed Broker (TRB)
Breaking Ranks: Former Broker Turns Bomb Thrower (Research)