Chris Selland is a Boston-based technology industry analyst & startup executive.  Currently, he is an Expert Advisor for Focus Research and blogs at Tumblr.
I've always been of 2 minds when it comes to Salesforce.com ($CRM).
As an investor (I don't own any shares) I both follow and invest in tech but tend to be wary of richly-priced companies, which Salesforce certainly is. I've always had a value bent with a warm spot for the type of healthy skepticism Todd Sullivan expresses in last night's post (and today's stream).
"Great job on the most recent quarter gentlemen, the first cloud company with > $2B in revenue is a real accomplishment. My questions is, when and how are you going to actually make money? Especially enough to even remotely justify the company's current valuation"
Yet at the same time, I have a tremendous amount of respect for what Marc Benioff and his company have built. Cloud Computing is, without question, one of the key megatrends in the industry, and Salesforce has played (and continues to play) the leading role in driving that. Dreamforce (Salesforce.com's annual user conference) has become the industry event. The 'socialization' of the Enterprise is another megatrend – and there Salesforce – and Marc – are again leading the parade.
Benioff was emphatic that his so-called "social enterprise" will be the biggest driver of growth, along with the company's developer platform efforts and call center software.
I mused – somewhat offhandedly – earlier today on Twitter whether Marc might be the next Steve Jobs – which in some respects (as the personality driving major industry trends) I'd argue he already is.
Chris Selland @cselland

Doubters abound, but @Benioff could be the next Steve Jobs $CRM
Let's just say that not everyone agrees, and that comparison offended some sensibilities.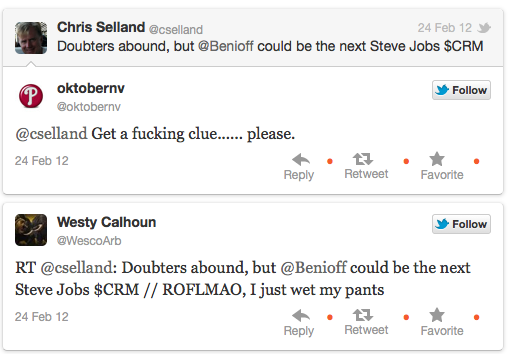 Could I be wrong? Absolutely. Rather than the next Steve Jobs, perhaps Benioff is the next Tom Siebel – another CRM impressario who built an aggressive, fast-growing challenger that eventually fell down due to overextended expectations.
The $5.85b that Oracle offered today is still a considerable amount of money, but a far cry from Siebel's valuation back in 2002.

Tom Siebel tried to battle his former boss, but in the end he failed.
I've been following Salesforce.com and this industry for many years, and it's fascinating to watch the dynamics play out all over again – or not. I don't have a dog in this hunt – at least not currently – but it's going to be fun to watch.
Tags: $CRM $AAPL $ORCL