Anyone who understands employment in America knows that we need small businesses (and specifically new businesses – which start off as small) to get in gear in order for a true jobs recovery to take hold.
But small business owners are staying on the sidelines still, here are the reasons they cite (via Gallup):
U.S. small-business owners who aren't hiring — 85% of those surveyed — are most likely to say the reasons they are not doing so include not needing additional employees; worries about weak business conditions, including revenues; cash flow; and the overall U.S. economy. Additionally, nearly half of small-business owners point to potential healthcare costs (48%) and government regulations (46%) as reasons. One in four are not hiring because they worry they may not be in business in 12 months.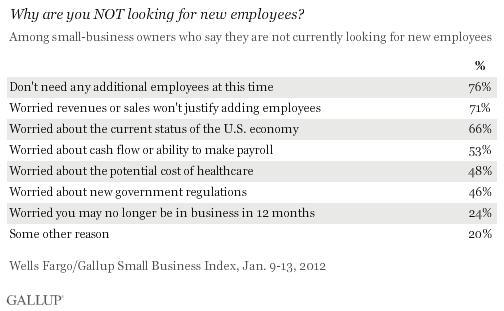 No one wants employees when they can buy a piece a of software instead – software doesn't require any soul-searching before you lay it off, it doesn't have a family or take up physical space in an office or facility.  And it doesn't require healthcare.
Source:
Health Costs, Gov't Regulations Curb Small Business Hiring (Gallup)