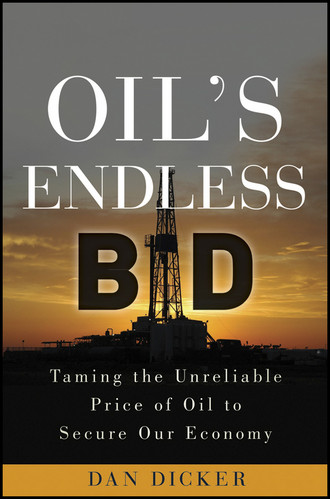 My friend and Fast Money colleague Dan Dicker has been trading oil and other energy futures and stocks for decades.  He wrote a book that is a great read for anyone who wants to truly understand what moves these markets and how they've changed during his time in the pits. The book is called Oil's Endless Bid and it offers a fascinating look into how financialized our energy commodities have become.
I saw Dan going at it on the Twitter yesterday with someone and I thought I'd give him some space here to make some important points about what really goes on in the push-and-pull of oil prices.  Check out what he had to say and then head over to Amazon to buy the book! – JB

***
Probably because I have a bad cold and am feeling a bit cranky, I got into a useless twitter spat with another pretty well known and sharp hedge funder.  His stream of tweets summing up oil and gasoline prices and how they are generated hit a chord with me, because they are so widely held and generally wrong.  What follows is a list of just a few of these.
I wrote a book, "Oil's Endless Bid", determined to give a real understanding to how the oil markets operate and why.  My perspective is different than most: For the last 25 years, I have been engaged in the financial trade of oil instruments – futures, options and swaps – and my conclusions emerge from the starting point that these instruments guide the prices you and I pay and not the fundamentals of  'supply and demand'.
That's the first oil "truth" to be outed –
1 – Oil prices are determined largely by supply and demand.  They're not.
Here's number two:
2 – Oil prices are inevitably headed upwards because we're running out.
Of course, oil is a limited resource, but this "Peak Oil" argument has only really served as a psychological driver of continued investment into oil by funds, institutions and individuals.
Ready for number three?
3 – Oil price inflation is entirely a function of the devaluation of the dollar.
There are times of sharp correlations to be sure, but this is also mostly just a function of 'trade relationships' as opposed to fundamental ones.
How about this one?
4 – Oil companies are the prime beneficiaries of 'financialized' oil and therefore higher prices.
You'd be amazed how many oil companies (particularly refiners) are being slowly but surely bankrupted by the way oil and gasoline is being priced today.
I'll give one last one, and hope you'll pick up a copy of my book to get a full explanation, but this one ought to make that expense worthwhile:
5 – The "speculative" premium in oil is perhaps 8 to 10 dollars a barrel and due to geopolitical risks like Iran and the Arab Spring.
I believe the speculative premium in oil is at least forty dollars a barrel and perhaps more and is now impossible to dislodge, save for a full-on governmental intervention in the futures markets or another global economic crisis like we saw in 2008.
And nobody's hoping for that.
***
Thanks Dan!
Check out Oil's Endless Bid at Amazon here.