The New York Times is reporting that the five largest mortgage servicing banks (Bank of America, JPMorgan Chase, Wells Fargo, Citigroup and Ally Financial) and the Government have reached a $26 billion settlement over their actions during the credit boom and bust.  The money will be used to help people who've been foreclosed on and people who probably will be:
the agreement is the broadest effort yet to help borrowers owing more than their houses are worth, with roughly one million expected to have their mortgage debt reduced by lenders or able to refinance their homes at lower rates. Another 750,000 people who lost their homes to foreclosure from September 2008 to the end of 2011 will receive checks for about $2,000. The aid is to be distributed over three years.
I wouldn't expect much of an impact on house prices as a result of this but, for what it's worth, here's a graphic from the NYT showing who gets what in the agreement: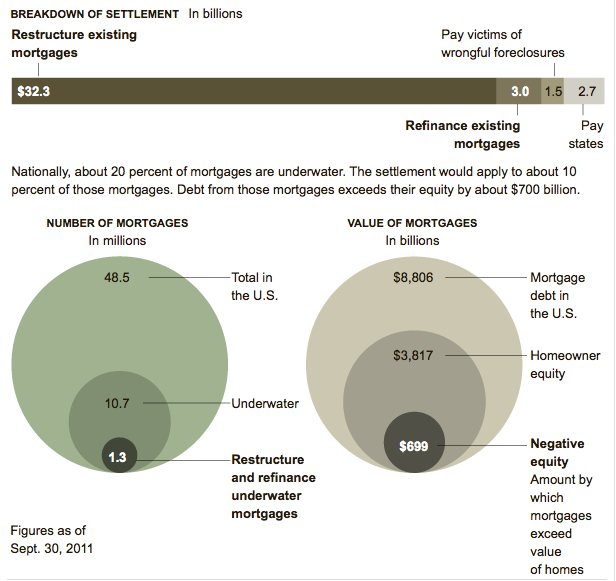 Now are the banks winners or losers on this?  Is this less than what was feared they'd have to pay?
Source:
States Negotiate $26 Billion Deal for Homeowners (NYT)