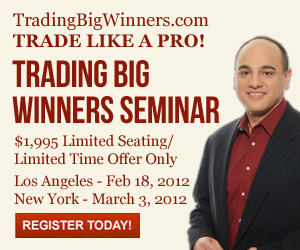 My friend Joe Fahmy is one of the best traders I've ever met.
Schooled at the side of the legendary Mark Minervini, Fahmy's style is both momentum-driven and risk averse at the same time. He trades when the market is healthy and bides his time doing research when the market is sick. And he is a Big Game Hunter – he's looking to bag elephants and find stocks to trade that have the ability to go up exponentially ($AAPL, $HANS, $NFLX, $ISRG etc), not 5 or 10%.
Joe is doing his first ever full-day seminar in NYC on March 3rd. Barry Ritholtz is speaking there and I am drinking free ginger ale in the audience. He is also doing one in LA. Go here to learn more about it:
Joe and I had a great conversation over sushi the other day and I asked him to expand on his philosophy for a series of three blog posts. Part 1 was on Stock Selection.  In this post, we talk why it's important to be aware of the common traits that the biggest winners of all time had if you're attempting to identify the next ones.
2. What are some of the characteristics the biggest winners ever share, what's the most important factor they all have in common?
In the first part of this series, I mentioned the importance of stock screening. Traders should look for stocks matching the characteristics of the greatest winning stocks in history. William O'Neil has done extensive studies in this area and the most important common factor is earnings and sales growth. By growth, I'm talking about 30-50% or higher…not 10% growth. Keep in mind, I'm not looking for a conservative 5% annual return. My goal is to produce superior results, and the best way to accomplish this is to be in the best stocks you can find.
Before the biggest winners throughout history experienced tremendous gains, major increases and acceleration in earnings and sales growth were the dominant reason behind their success. Specifically, 87% of these winners had increases of 30% or more in both earnings and sales in the quarter PRIOR to their moves. 65% of them showed increases of 50% or more BEFORE they went on to become big winners. It actually makes common sense: If a company is growing, for the most part, its stock should also move higher.
Keep in mind that screening for growth is only one part of the equation. One also has to consider technical factors, price, float, sectors, etc. There are 18 specific parts of the biggest winners study that I cover in depth during my seminar. I will also go through my number one screen that contains the majority of these 18 criteria. That way, traders can increase their probabilities of finding The Next Big Move.
***
Read Also:
Elephant Hunting with Joe Fahmy: Stock Selection (TRB)
Stay tuned for more.
Visit Joe's Seminar Page for details about you can attend!