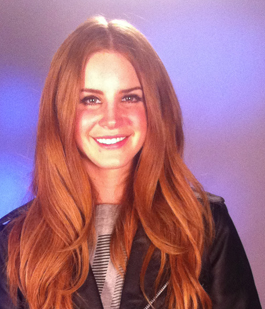 So this is your last chance to say you were a Lana Del Rey fan before her appearance on Saturday Night Live (which is later tonight) catapults her to stardom.  If you're not yet aware of Lana Del Rey, we featured her video for Blue Jeans here last year, and she's my pick to be 2012's breakout a la Adele in 2011.
Here's a quick bio via VH1 and below her original video for Video Games, a retro masterpiece that works perfectly with the song's tone and cadence (and with 19 million Youtube views hardly a closely-guarded secret).
Imagine: you're a talented but struggling singer-songwriter with an ear for lush arrangements (not to mention a director's eye for collage) who moves to Brooklyn from upstate New York but can't get any traction at open mic nights, where you're limited to your voice and a guitar, and even your name (Lizzy Grant) only brings to mind a character on Entourage. Do you throw in the towel?

If you're lucky, you've got some resources you can draw on (in Grant's case, her father's shrewd investments in real estate domain names) and you can hire a top-line producer like David Kahne and PR team like Shore Fire Media. Then, if you're smart, you work, and you wait. Grant, now Lana del Rey, (presumably after Lana Turner and, perhaps, Dolores del Rio?) is both lucky and smart, and now she's poised to make a huge splash.
Break a leg tonight, Lizzie Lana!