I love those maps at theme parks with the giant arrow saying "You Are Here".  I usually get lost at those places, poor sense of direction being one of the primary side effects of funnel cake overdose.
Anyway, a look at the top performing sectors this year tells you exactly where we are in the cycle and what kind of economic environment the market is pricing in.  John Melloy shot me these up and down sectors for 2011:
Down: FINANCIALS, MATERIALS, INDUSTRIALS
Unchanged: TECH
Up: CONSUMER DIS, STAPLES, ENERGY, HEALTH CARE, UTILITIES
Now point to this map below of sectors / cycles and tell me where we are?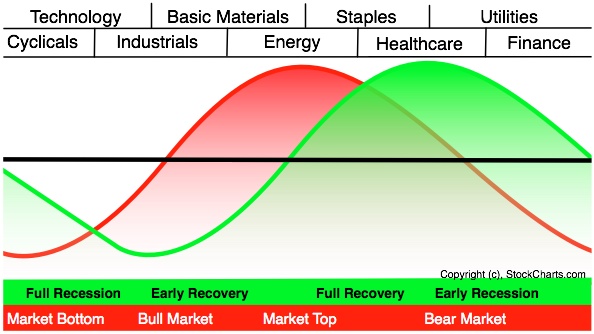 You Are Here.  In Early Recession.