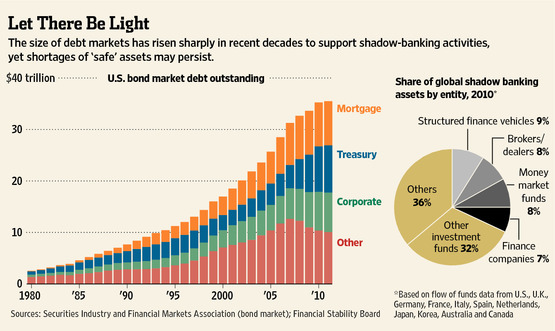 When most people hear the term "bank run" they think about men in trench coats and bowler hats standing on a line wrapped around the corner looking to withdraw their savings in the amount of hundreds or thousands of dollars.  This notion is both quaint and outdated – the modern-day bank run takes place between lenders and it plays out on flashing computer screens and conference calls around the globe.
One of the most fascinating/destructive aspects of the credit crisis was the unraveling of our shadow banking system and a forbidden look at all the tentacles in action.  The shadow banking system is still very much a large presence, albeit one that people only hear about in times of stress.  For the most part, the $60 trillion behind-the-scenes is the quietest 25% of the global financial system – but also the part with the highest potential to do damage.
My friend Kelly Evans tackles this backstage world of counterparties and short-term funding liquidity in her excellent new piece this morning for the WSJ…
Indeed, today's panics are more likely to involve major financial institutions and are largely hidden from plain sight until they are severe enough to trigger plunging stock prices, bankruptcies, layoffs and rising unemployment. And the current European crisis is a reminder that some of the vulnerabilities exposed in 2008 still exist.
This is a really important concept to grasp these days.  Just because you can't see signs of stress, doesn't mean they aren't there.  Continue reading below…
Source:
Bank-Run Risk in the Shadows (WSJ)