I bought some lululemon ($LULU) this morning at the open.  It was a layup trade.
Here's today's action in the name on the heels of an earnings overreaction that was comical to say the least: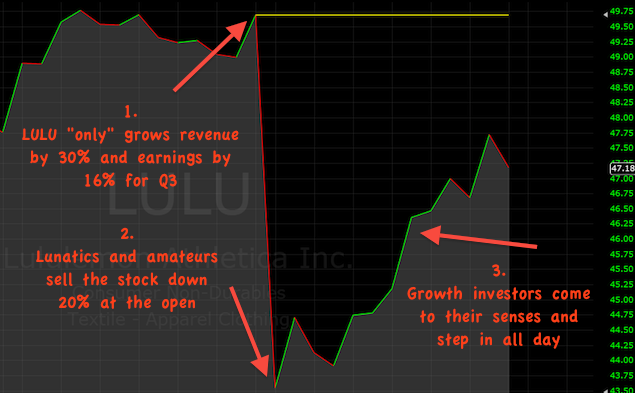 I'm not an expert on the company, I know it well enough to understand the business and the valuation.  I pulled the trigger not because of any deep knowledge I have about the company or any kind of innate skill I have at swing trading (I have no such thing).  I bought just because I've been around the block a few times and have seen this kind of stupid reaction before.
Sometimes when stocks gap down on earnings they don't bounce – they keep going and going lower, never to be heard from again.But I knew LULU would at least bounce, even if it eventually retests the lows from this morning where I bought in (41.75 to 42.25).  This is because LULU didn't miss earnings or revenue or guide lower for the coming quarter – it simply didn't blow The Street away by the same magnitude that it had in prior quarters.  It still grew faster than most other public retailers and it still has more room to grow than any retailer I can think of.
Only an imbecile looks at +30% revenue growth as a "disappointment" – especially amidst a market full of other stocks that couldn't grow their top line revenues if their lives depended on it.  And the fact that LULU may not have met sell-side analyst expectations means absolutely nothing to me.  Because I've seen this short-term myopia before back when Coach ($COH) was a young, mid cap growth story during the last recession (2002 – 2003).  It would blast the Street's stupid expectations out to Jupiter three quarters in a row and then have a quarter that was just okay.  People couldn't wait to write it off and say it was "decelerating" or had peaked.  And then it would smash the numbers for another three or four quarters in a row just to piss the naysayers off.
A more recent example of this type of thing can be found in the Apple ($AAPL)  growth juggernaut.  Every time someone told you a particular quarter wasn't "strong enough" from 2004 through 2011, it's been a buying opportunity.  Every single time (and it's happened a bunch of times).
Short-termism is foolish when you're talking hyper-growth potential and a young company with nothing but room to expand.  I'm not telling you LULU is cheap or "deserves" a 30 multiple or blah blah blah.  I'm saying that stocks don't get punished for growing revenues at a 30% clip for long.  I knew they'd bring it back simply for the fact that, well, there just aren't any other LULUs to buy, plain and simple.  What are you gonna buy, Gap?  Ann Taylor?  GTFO.
And that's today's lululesson.