Here in my hometown and its surrounding environs, we can't support a Modern Rock radio station but we have an apparently limitless capacity for the Urban or Top 40 format.  Sad but true.  But we do have a kickass Classic Rock station called Q104.3, which actually used to be the Rock station in the 90's until it switched over, it's a long story.
Anyway, for Thanksgiving weekend, Q104.3 did a listeners' poll of the top 1043 classic rock songs of all time and then played them over the course of like four days in order, counting down to number 1.  It was pretty epic.
Here were the top 25 as chosen by listeners, interestingly, 6 of the top 10 songs from 2010 were not in the top 10 this year…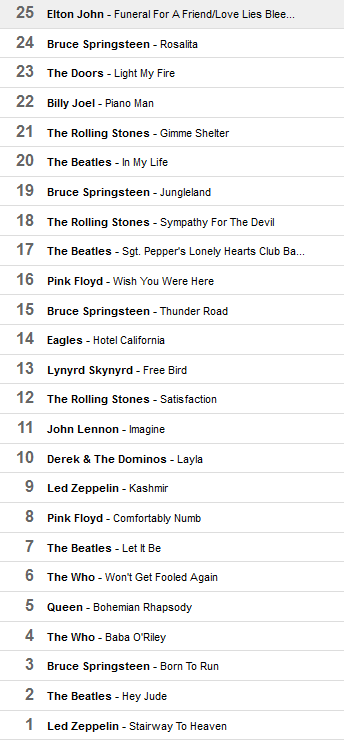 I'm okay with this list other than 19, 24 and 25.  Also, I think there would be a lot less Bruce and more Beatles if this wasn't a New York/New Jersey audience.  We do love our Boss here in the Tri-State area.  Also, no Bob Seger?  Weird, a Midwestern listeners' poll would be very different in this regard as well.
Source:
Top 1043 Songs (2011 Edition) (Q1043.com)