Good morning and welcome back.  When last we left off, world equity markets were catching up to the death and dismemberment happening in the world's bond markets.  The S&P 500 had slumped for six days straight giving up over 6% since mid-November.  This is the market we now return to after a one day respite.
It will be a relatively light trading day, many of us will be working from home, our fingers down our throats.  My own personal tradition on Black Friday is to place bets on which region of the country will host the first death by trampling at a shopping mall.  My bet is on Cleveland, Ohio this year as I believe they are overdue to wrest the Desperation Cup back from their rival, Newark, New Jersey.
Let's turn our attention back to the global macro picture for a moment.  Italian bonds are back through 7% and commodities remain in free fall.  Germany is still pretending they're not about to do more printing than Gutenberg running off his first porno mag.  Tadas has all the links on those items over at Abnormal Returns this morning.
The bad news is that we're not through the worst of it just yet.  The good news is that the pace has quickened and the magazine covers have gotten extraordinarily fatalistic.  Here's a gem from this week's The Economist: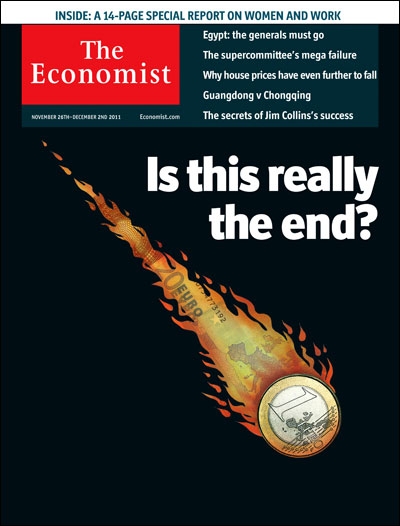 That's what's happening.  Happy Thanksgiving.