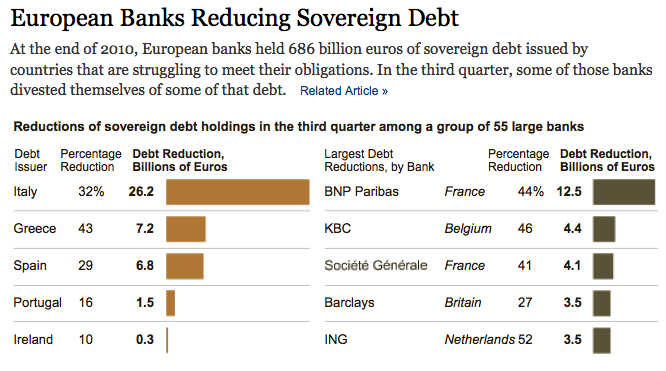 When did Tyler Durden start covering Europe for the New York Times?
Nervous investors around the globe are accelerating their exit from the debt of European governments and banks, increasing the risk of a credit squeeze that could set off a downward spiral.

Financial institutions are dumping their vast holdings of European government debt and spurning new bond issues by countries like Spain and Italy. And many have decided not to renew short-term loans to European banks, which are needed to finance day-to-day operations.

If this trend continues, it risks creating a vicious cycle of rising borrowing costs, deeper spending cuts and slowing growth, which is hard to get out of, especially as some European banks are having trouble meeting their financing needs.
We are now in crabs in a barrel territory as Euro banks can't dump exposure to each other fast enough thus creating a death spiral wherein all the players damage each other even further in their attempts to extricate themselves.
Read the whole thing, there will likely be a pop quiz this week.
Source:
Europe Fears a Credit Squeeze as Investors Sell Bond Holdings (NYT)