Rob Arnott of Research Affiliates is one of the most important voices in portfolio management of our era.  His overarching theme is that the 3 D's – Deficits, Debt and Demographics – will work as a headwind preventing traditional 60/40 stock-bond portfolios from achieving success going forward.
He posits that the impact of these features on the global economic situation will be a stubbornly high rate of real inflation.  As a remedy, he's created a "toolkit" of investment asset classes that can be both non-correlated to traditional indices and perform above the rate of inflation on a go-forward basis.
We know that deficits, debt and demographics are, to a large extent, inexorable – there is little that can be done by any legislator or central banker in the world to change these realities.  So given that, what is an investor to do?
Here's Rob:
Over the past two years, we have encouraged investors to place a greater emphasis on real return asset classes and the emerging markets (where our 3-D headwind is a relative tailwind). We also advocate using an expanded inflation-protection asset class toolkit and tactical management to produce substantive real returns in such an environment.2 Key tools in the toolkit: traditional real return asset classes (TIPS, commodities, and REITs) and what we have labeled "stealth inflation fighters" such as bank loans, emerging market local currency debt, high yield bonds, and convertibles
The bad news is that the headwinds represented by the 3D's are not going anywhere anytime soon.  The good news is that the tools we can use to fight those headwinds have gotten markedly cheaper this fall as other managers have carelessly sold asset classes they do not fully understand.
From Research Affiliates latest note, here is an idea of where Arnott is seeing bargains for the "toolkit":
Emerging Markets Debt sports attractive nominal yields of 6.7% (as measured by the JPM GBI-EM Global Diversified Index), a pretty attractive rate given their substantially higher capacity to service that debt.5 Emerging markets have 38% of world GDP, 81% of global population, 65% of its landmass, and 45% of worldwide energy consumption but only 11% of the debt.6

Investment Grade Credit offers yields of 3.2% on the intermediate part of the curve (as measured by the Barclays Capital Intermediate U.S. Corporate Index), a spread of 2.2% above Treasuries, making it a far better low-risk option.

Emerging Markets Equities have had higher dividend yields than today's 3.2%7 only twice—during the Long-Term Capital Management episode and the Global Financial Crisis. If we add in the historical excess return from the Fundamental Index® strategy and a slight premium for earnings growth above the developed world, we can arrive at an expected long-term real return over 8%.

High Yield Bond spreads are the cheapest decile since 1986. Nominal yields are 9.5%, which allows for decent forward-looking returns even after netting out a sizeable default risk.
Rob offers up a chart to show us just how correlated each of the 16 asset classes he follows are to inflation, which he believes is headed toward an annual real rate of 6-10%: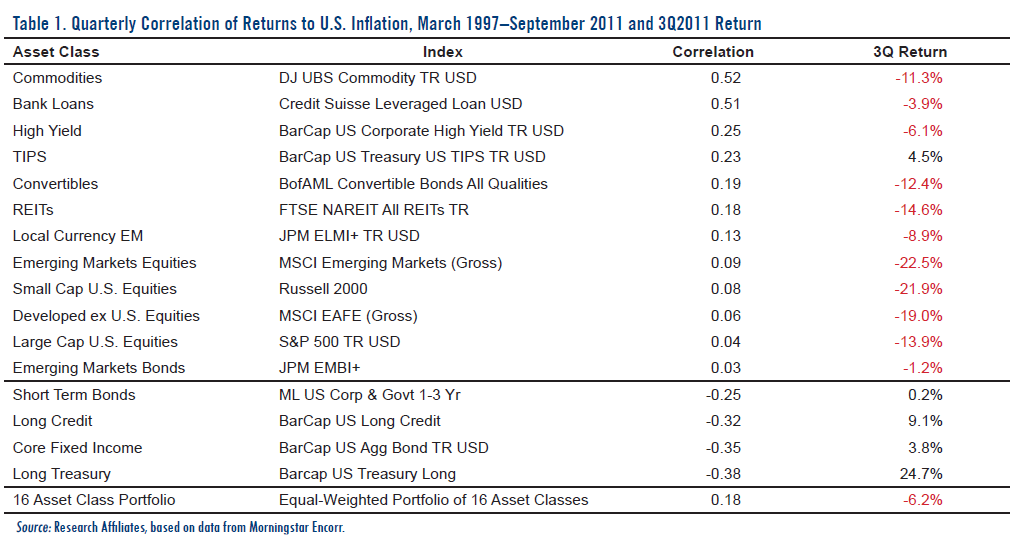 For the whole note, click below.
Source:
Fundamentals October 2011 (Research Affiliates)
Read Also:
Notes from the Pimco Lunch with Rob Arnott (TRB)