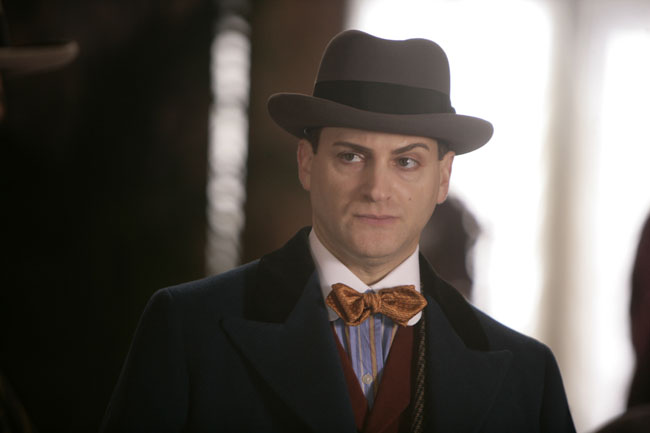 Arnold Rothstein as portrayed by Michael Stuhlbarg
There was a great exchange between three of the old school gangsters last night on Boardwalk Empire that had some pretty strong parallels to trading.
Atlantic City boss Nucky Thompson finds himself besieged by rival mobsters and the US district attorney's investigators.  He meets with Chicago gangster Johnny Torrio and Manhattan's gambling kingpin Arnold Rothstein to plot his next move…
Torrio:  "What are you gonna do?"
Nucky:  "What would you do, John?"
Torrio:  "Kill the prick,"
Nucky:  "I'm under indictment. The Feds are up my ass…"
Torrio:  "Then take it with you. Retire somewhere."
Nucky: "Take what? All my money's tied up in a land deal."
Rothstein: "Nothing."
Nucky:  "I beg your pardon?"
Rothstein:  "You have no move, Mr. Thompson. You do nothing,"
Torrio:  "He's under attack, Arnold."
Rothstein:  "All the more reason for patience. I've made my living, Mr. Thompson, in large part as a gambler. Some days I make 20 bets. Some days I make none. Weeks, sometimes months in fact, when I make no bets at all because there simply is no play. So I wait, plan, marshal my resources and when I finally see an opportunity and there is a bet to make, I bet it all."
Sometimes, the best move is to do nothing.  This applies to when unclear event risk rears its ugly head or in the midst of a market melt-up in which one finds himself under-invested.
Rothstein was one of the great speculators of the 20th Century – in part because he had a habit of setting the odds a tad bit more in his own favor (wink wink) than many would have liked.  Here's a real-life bio of the man who fixed the World Series…
http://en.wikipedia.org/wiki/Arnold_Rothstein
And if you're not watching Boardwalk Empire, I don't understand.  At the very least get season one on DVD and begin there.