One of the things that began to creep into our society sometime in the last 20 years is this idea that no one can ever lose and there's no such thing as smart and stupid.  Instead of calling things what they were, we just used the term "different" instead.
I guess it started in elementary schools when kids would compete in sporting activities and then be told they were all "winners" at the end of the game.  We also lost the right to be honest and say that one thing is intelligent and another thing is dumb for fear of insulting or offending people.
But there are cases where the difference between smart and stupid is so stark that it would be even more offensive not to point it out.  This past month two books came out and, depending on which one you bought, we can pretty much make the assumption that you're either a smart person or a stupid person.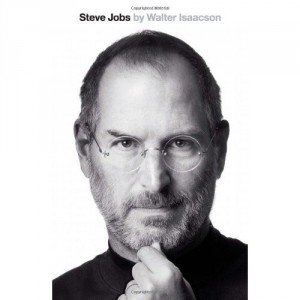 The first book is the eponymous Steve Jobs biography by Walter Isaacson.  Isaacson is one of the nation's great biographers, having written the definitive books on both Benjamin Franklin and Henry Kissinger.  Obviously the story of Steve Jobs is one of innovation, iconoclasm, big business, fighting back after defeat and ultimately changing the world.  It's not that buying this book automatically makes you "a smart person", but chances are that if you have the desire to read it, you're probably not dumb.
No, the dumb people have their own new book out this month.
Here's the New York Post on the launch of Kim Kardashian's mom's new book (about god-knows-fucking-what)…
…family matriarch Kris Jenner, promoting a memoir, is still making some cold, hard kash. Jenner, who has done a grueling series of TV appearances this week to insist that Kim didn't profit from her mega-televised wedding to Kris Humphries, took time for a book launch at The Darby on Wednesday night to make some of her own money. Spies at the event said publisher Simon and Schuster brought along 100 books for Jenner to sign, but instead of giving them to the invited guests for free, as is usual, they set up a credit-card machine, charging all the mommy bloggers for their personalized copies. "They even had a fanny pack on hand to collect cash," said a source.
Here's the deal…if you walked into a bookstore or logged on to Amazon and bought Kim Kardashian's mom's book instead of the Steve Jobs biography, you're stupid.  It's not that you're just "less smart" or you have "different interests" or anything like that – it's simply that you're a stupid person.
And that's okay, we need stupid people in this world also – especially here in the Eternal Consumption Engine that is America.
And I think it's also okay for society to be honest about the fact that some people just happen to be stupid.  We need to re-remember that there is a difference between winning and losing, knowledge and foolhardiness, before we go any farther down this path of equivocation.
It's time we stopped pretending otherwise.