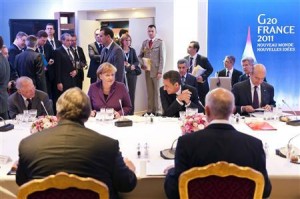 ATHENS/CANNES, France | Thu Nov 3, 2011 7:42am EDT
(Shmeuters) – Top cabinet officials in Greece have announced a new nationwide referendum to vote on whether or not to hold a referendum concerning Greece's continuing membership in the euro zone.  The original referendum, announced yesterday, will be referred to as Proposition Alpha while the referendum to decide on whether to hold the Proposition Alpha vote will be known as Proposition Beta.
Prime Minister George Papandreou chaired an emergency cabinet meeting in Athens, with his finance minister in revolt against a plebiscite, after the leaders of France and Germany gave Greeks an ultimatum to make up their minds.  Papandreou explained that as the Birthplace of Democracy, Greece now gets its time to shine and that voting on whether or not to have a vote is a natural course of action for the nation.
French President Nicolas Sarkozy and German Chancellor Angela Merkel told Papandreou at a torrid meeting in Cannes that Athens would not receive a cent more in aid until it votes to meet its commitments to the euro zone. Greece was due a vital 8 billion euros installment this month.  To demonstrate the euro zone's disapproval of this new referendum on the referendum, Greek representatives were also forbidden the buttery croissants and cream sauce-laden dishes that are a staple of such gatherings.
On his return with Papandreou to Athens from Cannes, Finance Minister Evangelos Venizelos issued a defiant statement, saying Greece's euro membership was a historic achievement and "cannot depend on a referendum.  Or a referendum about a referendum.  Or a referendum about a referendum about a referendum."
Merkel told a midnight news conference that while she would prefer to stabilize the euro with Greece as a member, the top priority was saving the euro, not rescuing the Greeks.  She also remarked that "Greece is dumb, like aneemal," and that if the country goes ahead with its Proposition Beta referendum, then "Germany will crush Greece like teensy lamb testicals in vice."
Greek officials in the leading Socialist party maintained their stance that although most don't pay any taxes of any sort Greek citizens still deserve a say in whether or not they deserve a say and that the referendum process is vital to Greek statehood.
(Additional reporting by Kathy Fennister, Gernot Heisingham,; Writing by Richard Fortington; Editing by Anna Carvingtrapp-Walsh)