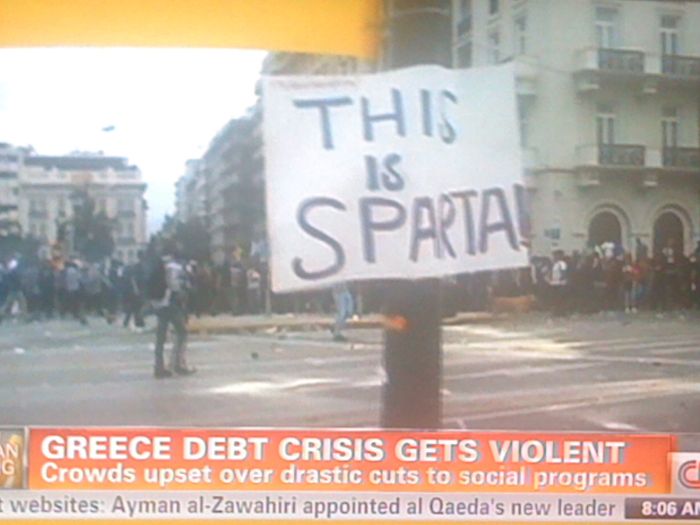 Is all hell about to break loose in Europe today because of the surprise Greek referendum on austerity?
Basically the Greeks are faced with two choices: Vote yes and stay in the EU or vote no which would mean an automatic hard default on sovereign debt and a return to the drachma (and god knows what else).  And this so soon after European finance ministers rolled out the grand plan to fix bandage everything!
Here's what you need to know…
The Germans are now furious (usually not a good thing for the rest of the world when that happens), here's Reuters:
Prime Minister George Papandreou's shock decision to call a referendum on Greece's bailout drew veiled threats from Germany on Tuesday and hammered markets edgy over the euro zone crisis.

European politicians complained that Athens was trying to wriggle out of the rescue deal agreed only last week, concerned not so much about the fate of Greece as the possibly dire consequences for the entire currency union.
This move by Greece to put the plan to a referendum vote has thrown markets into a tailspin, here's Zero Hedge on the CDS spreads:
The futures are tumbling with U.S. futures falling in sympathy with plunge in European stocks; Italy's FTSEMIB index down 5.3%, DAX down 4.4%, CAC down 4.3%, Spain's Ibex down 4.1%, FTSE down 2.9%. But here is the true reason why Europe already needs another bailout, or the promises thereof, courtesy of those so vile CDS which no matter how hard it tries, Europe just can't kill:

Italy CDS Rise 45.5 bps to 491; update +53 495/505

France CDSs rise 14 bps to 190; update + 17 191/196
Spain CDSs rise 33.5 bps to 374.5; update + 41 375/385

Portugal CDSs rise 57 bps to 1,028; update + 71 1015/1055
And the finance ministers are scrambling to fix this, whatever this actually turns out to be.  Here's Business Insider on who gets killed should Greece choose to hard default (a slideshow but I linked to the "all as one page" option because I love you guys and I'm always looking out for you):
REMINDER: Here's Who's Freaking Out Now That Greece Will Hard Default
Anyway, the day has just begun here and the twists and turns promise to be epic.
Happy November, here we go.