Solar stocks suck.  They've always been a story of government subsidies and lowest-common-denominator manufacturing rivalries with Chinese producers.  First Solar ($FSLR) is an unmitigated disaster today.  The CEO basically threw his hands up and walked out, the stock is down from 170 in February to about 48 as of this posting, it's off 20% on the day.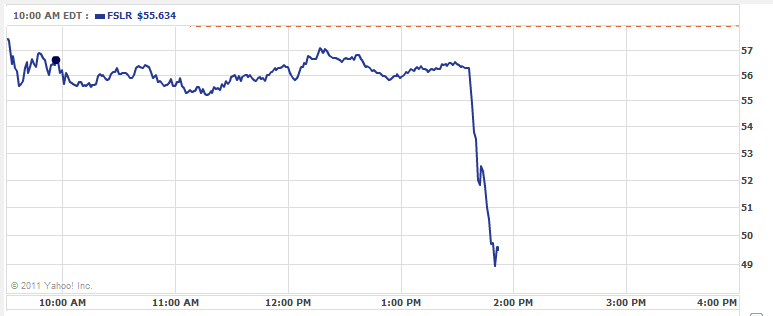 Is it "cheap"?  No.  There's nothing here, it's a nonsense stock with no real bull case.
Anyway, the big winner here – assuming he's still short – is my man Jim Chanos of the hedge fund Kynikos Associates.  Chanos laid out the short thesis on FSLR this summer at the Ira Sohn Conference.  I was there and liveblogging the event, here's what Chanos said…
from: My Notes from the Ira Sohn Investment Conference
Jim Chanos – Kynikos Associates

Quick comparison of China to Japan 25 years ago.

Solar and Wind won't work is his theme.

"Wind is 50% more expensive than nat gas, solar is 4 times more expensive than nat gas"

"When people talk about Green Jobs, keep your hand on your wallet"

Doesn't like Denmark's Ventas, a $6 billion wind generating co.  Says accounting issues and declining demand.

Also doesn't like FSLR and is short it.  First Solar in big trouble, costs climbing, demand dropping, Euro subsidies going away, competing Chinese suppliers wrecking margins, FSLR has negative cash flow for 2011, executives leaving and dumping substantial amounts of their stock.
That was back on May 25th with FSLR trading at 120 or so.  Chanos wins.