The below press release came out exactly ten years ago today.  It would change the world, my life and probably yours as well, the product that started it all…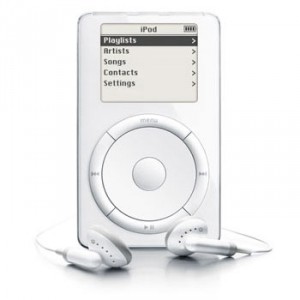 Ultra-Portable MP3 Music Player Puts 1,000 Songs in Your Pocket
CUPERTINO, California—October 23, 2001—Apple® today introduced iPod™, a breakthrough MP3 music player that packs up to 1,000 CD-quality songs into an ultra-portable, 6.5 ounce design that fits in your pocket. iPod combines a major advance in portable music device design with Apple's legendary ease of use and Auto-Sync, which automatically downloads all your iTunes™ songs and playlists into your iPod, and keeps them up to date whenever you plug your iPod into your Mac®.
"With iPod, Apple has invented a whole new category of digital music player that lets you put your entire music collection in your pocket and listen to it wherever you go," said Steve Jobs, Apple's CEO. "With iPod, listening to music will never be the same again."
Next Generation Player
iPod represents the next generation of portable music players that store music on an internal hard drive, yet are only 20 percent of the volume of today's hard drive-based players. iPod stores up to 1,000 CD-quality songs on its super-thin 5 GB hard drive, and features up to 20 minutes of shock protection for nonstop playback when running, biking or other activities.
iPod's built-in FireWire® port lets you download an entire CD into iPod in under 10 seconds and 1,000 songs in less than 10 minutes—30 times faster than USB-based players.
iPod plays up to 10 hours of continuous music, powered by its rechargeable lithium polymer battery, and recharges automatically whenever iPod is connected to a Mac, using power supplied over the FireWire cable. Every iPod comes with a compact, FireWire-based power adapter for traveling. iPod's high-capacity 5GB hard drive doubles as a portable FireWire hard drive for storing presentations, large documents, graphic images and digital movies.
iPod plays music in the popular MP3, MP3 VBR (variable bit rate), AIFF and WAV formats and can support MP3 bit rates up to 320-Kbps. Its upgradable firmware enables support of future audio formats. For CD-quality sound, iPod is equipped with a high-output 60-mW amplifier that delivers 20 to 20,000 Hz frequency response for deep bass and crystal-clear highs. iPod's earbud-style headphones are built with neodymium magnets for enhanced frequency response and high-fidelity sound.
iPod also features a 160-by-128-pixel high-resolution display, with a white LED backlight to give clear visibility in daylight as well as low-light conditions.
Legendary Ease of Use
Apple has applied its legendary expertise in human interface engineering to make iPod the easiest to use digital device ever. Simply rotate iPod's unique scroll-wheel with your thumb or finger to quickly access your entire music collection by playlists, artists or songs. The scroll-wheel makes it possible to hold and operate iPod with just one hand and features automatic acceleration when scrolling through long lists so you can find your music in seconds. iPod also features customizable settings such as shuffle, repeat, startup volume, sleep timer and menus in multiple languages including English, French, German and Japanese. iPod can display song data in any of these languages, enabling users to mix and match songs from all over the world.
Auto-Sync
iPod's revolutionary Auto-Sync feature makes it easy to get your entire music collection into iPod and update it whenever you connect iPod to your Mac. Simply plug your new iPod into your Mac with the supplied FireWire cable, and all of your iTunes songs and playlists are automatically downloaded into iPod at blazing FireWire speed. Then just unplug and go. Whenever you plug iPod back into your Mac it will be automatically updated with your latest iTunes songs and playlists, usually in seconds. There has never been a faster and easier way to always have your up-to-the-minute music and playlists with you wherever you go.
Pricing & Availability
iPod will be available beginning on Saturday, November 10, for a suggested retail price of $399 (US) from The Apple Store® (www.apple.com), Apple's retail stores and Apple Authorized Resellers. An iTunes 2 CD, earbud-style headphones, FireWire cable, and FireWire-based power adapter are all included. iPod requires iTunes 2.
Apple ignited the personal computer revolution in the 1970s with the Apple II and reinvented the personal computer in the 1980s with the Macintosh. Apple is committed to bringing the best personal computing experience to students, educators, creative professionals and consumers around the world through its innovative hardware, software and Internet offerings.
Source: