Many of you haven't made up your minds yet about the images you're seeing from the Occupy Wall Street movements all over the nation.  I haven't either, but this week I met someone who totally floored me and turned a lot of my preconceived notions upside down.
Last night 5000 protesters came north from Zuccotti Park on Wall Street all the way up to Times Square and put on one hell of a show.  It took hundreds of police, many on horseback, and blocks of metal barricades to restrain the crowd.  Here's today's New York Post cover just to give you a sense of how heated these protests are getting: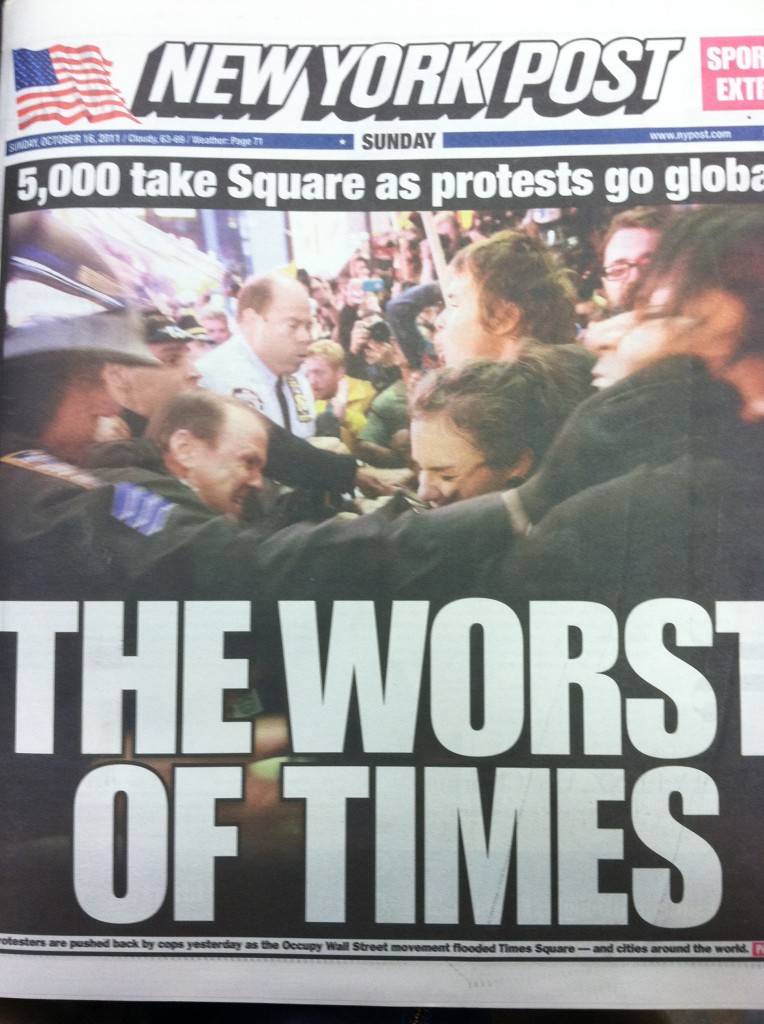 Marine Sergeant Shamar Thomas delivered a scathing sermon to the NYPD, backing them off and furiously reminding them that the police should be there to protect the people (see photo via Joshua Paul below):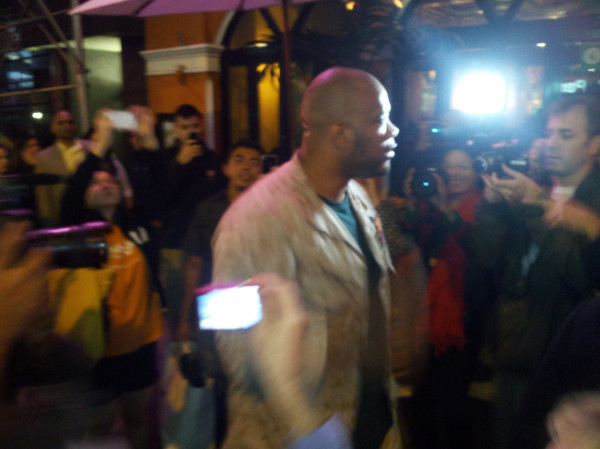 Sgt Shamar Thomas represents a major problem for those who would love nothing more than to conveniently dismiss the protesters as "stoners, losers and fringe elements."  And if Thomas represents a problem, then someone like Suzanne represents an earthquake.
Friday was one of those days in New York City where the rain can't seem to make up its mind.  After drizzling down from an overcast sky for much of the day, it threw in the towel sometime around 2pm and the sun was bursting through the clouds just as I emerged from the 4 train steps in front of Wall Street's ancient Trinity Church (the final resting place of Alexander Hamilton and others).  I met up with my friends at the scaffolded 2 Wall Street and together we negotiated the tourists, police barriers and news vans to get across the street to Zuccotti Park.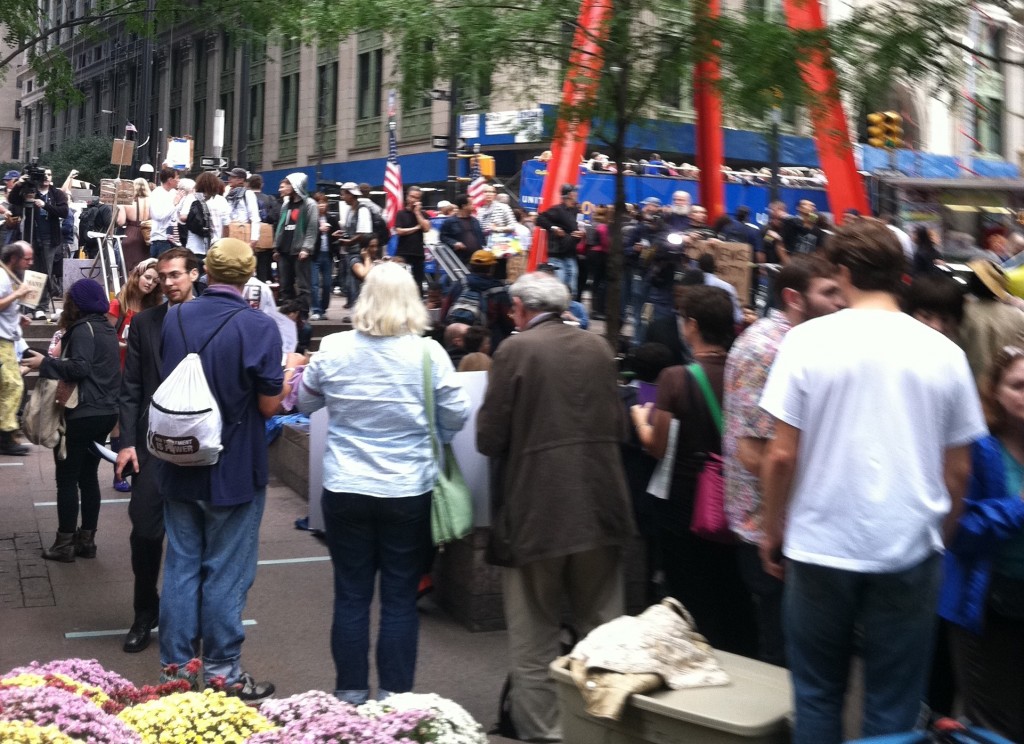 It was the afternoon following the triumphant morning during which Brookfield Properties and Mayor Bloomberg backed down about clearing the park.  The office workers from the neighborhood had begun streaming across the street out of curiosity, joining the protesters and the media people, creating a kind of bouillabaisse of humanity – a hot and swirling mass of people gingerly stepping over sleeping kids and mucky puddles of mud.  I started surreptitiously snapping pics with my iPhone until I realized that there were hundreds of regular people taking pictures, some from the outside in and many, like me, right from the center of it all.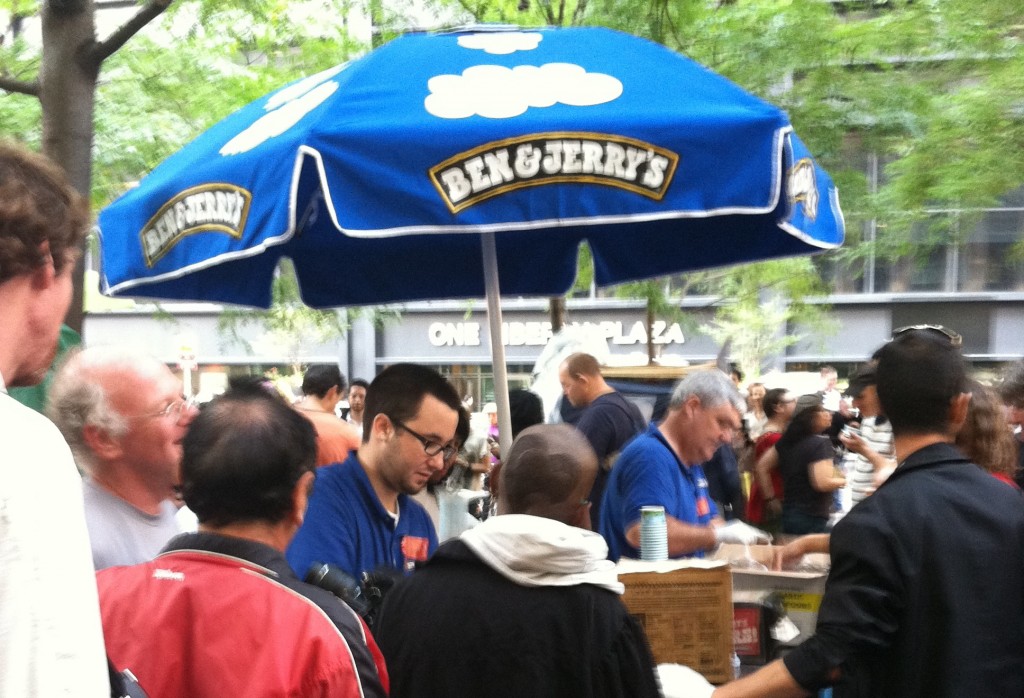 To my left, the kids were cutting up a purple sheet to make belts, bandanas and ribbons to distribute.  To my right was the Ben & Jerry's cart giving out free scoops of ice cream to the gathered protesters, manned by Jerry himself with a benevolent grin toward the modern-day heirs to his spiritual sensibilities.
We spent some time talking to people – the Air Canada stewardess holding a corrugated cardboard sign, the old couple from the Midwest holding signs they may have made in their hotel room that morning.  The white kids with dreadlocks were out in force.  So were the union workers and the military vets from wars fought before I was born.
We talked to them all.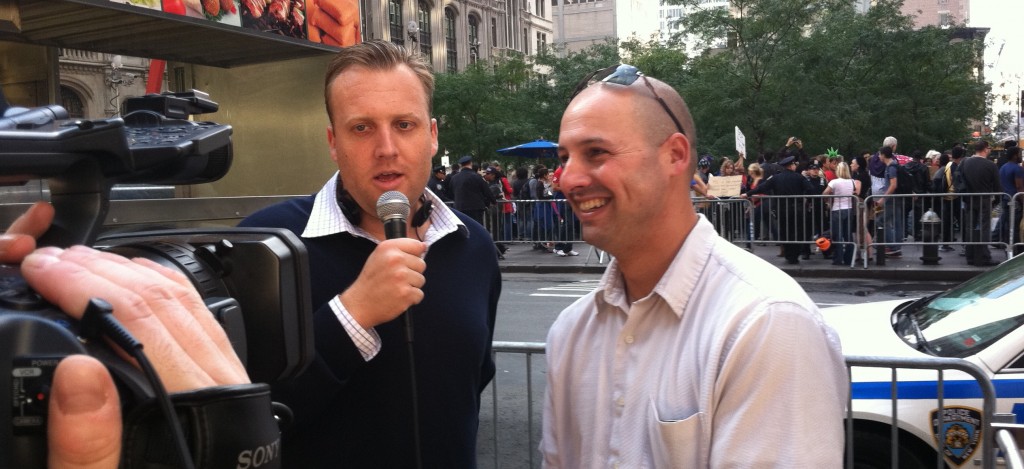 And then we saw her quietly standing behind a small folding table with a handful of laminated placards.
"Let's go talk to her.  She knows what's going on around here," said my friend Bear.  Bear's a giant and also possesses an eerie ability to scout out a group of people and know exactly what's going on in all corners of a crowd, who's saying what and who's thinking the opposite, it's remarkable actually.  We walk over, introducing ourselves.  We have a camera and a microphone and her guard is up.
"Hi, I'm Josh and we were wondering if we could ask you a few questions."
"Uh, who are you guys with?"  She knows all about how the media's making the protesters look like freaks (many of them are freaks, so it's not so hard to do).
"Don't worry, we're not with Fox News or whatever, we're making a video that will be watched by traders and people who work in the markets so they can make up their own minds about what's going on here," I assure her. "What's your name, by the way?"
"Suzanne."
Suzanne has long, straight black hair, she looks mid-to-late forties.  She is well-dressed and is in good shape.  When she looks up and makes eye contact I realize that she's also beautiful, had definitely done some heartbreaking back in the day.  Right now she's deciding whether or not to chat with yet another camera crew.  Kenny comes over with a free scoop of Ben & Jerry's for her – she looks at it and she's closed.  "Okay, sure, I'll talk to you guys."
What follows is a wide-ranging discussion, some with the camera running and more with the camera off.  Suzanne is inexplicable for those who would seek to react to the protest as a fringe disturbance.
She tells me about how she ran a Wall Street firm for 13 years before selling it and becoming wealthy enough to retire, this is how she has the time to spend her days in Zuccotti Park.  She explains that the OWS movement has nothing to do with ending capitalism but rather with bringing it back.  "No one here wants to tell anyone that they shouldn't go out and pursue success and make as much money as possible," she explains.
"This is about checks and balances, not about redistribution.  We all went to sleep ten years ago and allowed the banks and the government to run the show, we trusted them and they took over, eliminating opportunity for everyone else.  This is about taking that opportunity back"
Suzanne's table is called the "Free Empathy" table.  She spends a lot of her time mediating disputes between neighborhood businesses, residents and the protesters.  She's helped mediate non-violent solutions between hundreds of people during her time there, she says.
Suzanne doesn't have a Guy Fawkes mask or a bone through her nose or a wacky sign, so you'll probably not be seeing her picture a lot in the media.  But she's down there.  Every day.  A non-anarchist supporter of free capitalism with a desire to help people get along better.  The doubters and naysayers who ridicule the movement simply have no answer for Suzanne.
They'd better hope there aren't more Suzannes on the way.