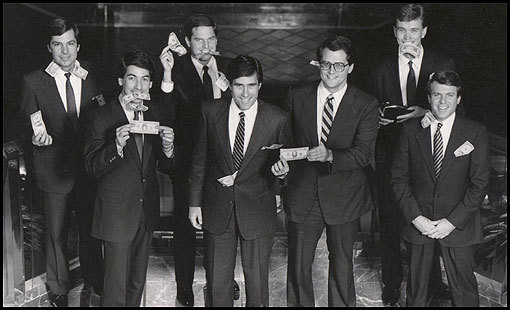 This pic was dug up from the graveyard by Michael Scherer, it's posted at The Boston Globe.  Mitt's the homeboy in the middle, not the douche with the money in his mouth.
Here's their caption:
Despite the pressures at Bain Capital, Mitt Romney kept the atmosphere loose. One year, after posing for a photo for a firm brochure, the partners did another take, the second time holding $10 and $20 bills.
Mitt was such a badass back in the day, you guys.
Anyway, I'm guessing presidential candidate Mitt probably wants that picture to disappear.  Like forever.  So let's have some fun!
Best caption in the comments section below wins a 2012 Kia Sportage with the Microsoft Zune-powered media package.  Have at it below!