At the top of this month I read you a laundry list of why I was coming in (and likely remaining) severely underweight equities (see: Sucktember).  The month played out exactly as I feared it would and in some ways worse.
First, an early look at how the major averages are going to go out this month (with Total Return performance as of yesterday's close, data courtesy of Morningstar)…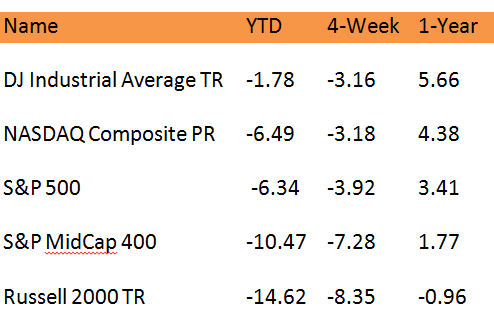 So, basically awful across the board with surprising "relative" strength in the Nasdaq mainly attributable to two stocks (Amazon and Orange, I mean Apple).
The higher-quality, dividend paying names have done better overall than the garbage that led most of the now-ended and negated QE2 rally.  Have a look at sector performance for the real story:
Defensive Sectors (Utilities, Cons Defensive, Healthcare) down only 1.66% versus Cyclical Sectors (Consumer Cyclical, Real Estate, Financial Services, Basic Materials) down 7.25%.
This is what I expected to be the case and I see nothing in the data or the chart squiggles that tells me the coming month will be much different so far…
Tags:  $AAPL $AMZN $IWM $DIA $QQQ $SPY