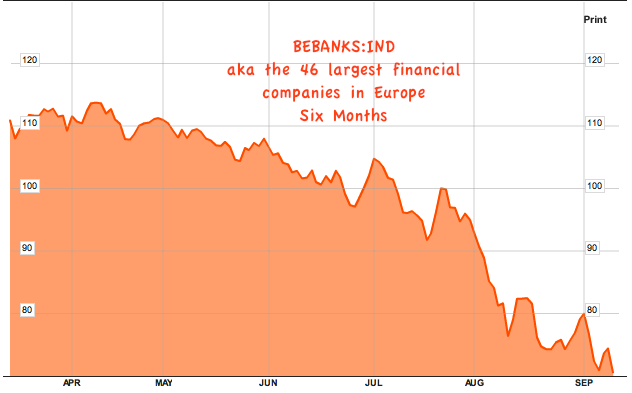 The chart above is the Bloomberg Europe Banks and Financial Services Index (BEBANKS:IND) over the last 6 months, it is made up of the 46 largest financial firms in Europe.  Since June 15, the index is down 30% while the three largest banks in France are down between 42% and 55% each.
Rumors of a Moodys downgrade of the Big Three French banks have been making the rounds all weekend.  The banks in question are called BNP Paribas (BNP) SA, Societe Generale SA and Credit Agricole SA and they have various types of Greek exposure that's instigated the potential for downgrade, from sovereign bonds to bank loans to the equity stakes they hold in Greek financial companies.  They are basically caught in the crossfire as Greece finds itself on the brink of default and German politicians wring their hands over making the politically disastrous yet ultimately obvious decision to bail the whole thing out.
It's either that or "mutually-assured destruction".  Should Greek debt of all duration fail and the nation devalue, then every major bank takes a huge hit.  Some fail outright, everything is downgraded and re-rated, a new round of losses is triggered and basically all hell breaks loose.  This leads to a frozen credit market in Europe and probably a stock market crash, the effects of which work their way into every market around the globe.
So Germany probably comes around either right before or right after a Greek default and takes the punishment for 12 years of economic and export primacy over their neighbors.
But again, there is the matter of France and her banks.  These are among the most important financial institutions in the game right now and any action by Moodys on the ratings front will be felt pretty quickly, if to a different degree by each bank.
Societe Generale is said to be in the worst shape because of how much assistance it is already receiving and its nominal Greek exposure totals.  If the name sounds familiar, it is because this is the bank that acted most like a Wall Street investment bank during the engorgement phase, piling on risk, lying about it's exposure, facilitating rogue traders and so on.  Picture Citigroup in a white crewneck sweater with horizontal black stripes.
Anyway, the action in the group this week will be on everybody's radar, this is non-peripheral Europe facing Greek contagion – aka The Main Event we've all been speculating about since 2009.  Should Greece truly default then we will find out how much of this is really "priced in" pretty quickly.  The next phase would be a run on Spain, Portugal and Italy – but we'll save that for another post.
Some graphics I've collected below to give you perspective on French exposure to Greece and it's banks…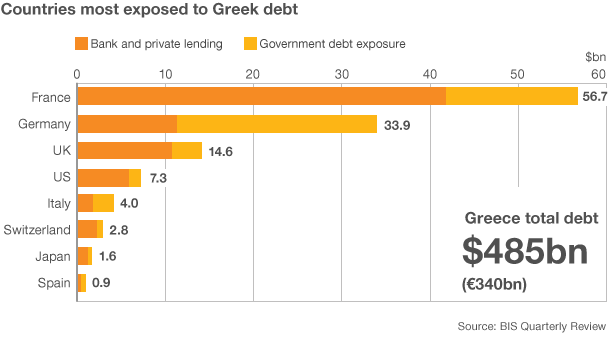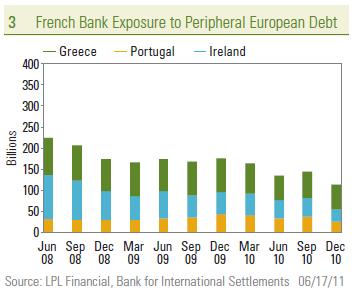 Editor's note: This is a complicated economic and political subject that I've kept intentionally simple in the post above, for further reading please visit the links below:
French Banks Poised for Moody's Downgrade
Guest Post: The Maginot Line, Part Deux (Zero Hedge)
Germany and Greece flirt with mutual assured destruction  (Telegraph)
Eurozone Sovereign Debt Crisis: The Virus Spreads (Stock Sage)