We can dispense with all the bickering over whether or not Ben Bernanke's QE2 was worthwhile or not.  The ultimate jury – the market – has reached a verdict…
From Investors Business Daily:
In the few weeks since the Federal Reserve wrapped up $600 billion in Treasury purchases, the stock market's plunge has wiped out the bulk of its rally from late August. That rally started on the very day Fed Chairman Ben Bernanke cemented expectations that the central bank would soon start buying in bulk again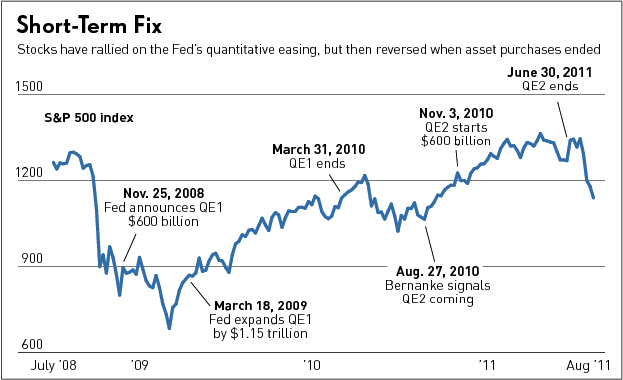 And that's the S&P; can you imagine how pathetic the program would look if we ran a timeline against the KBW Bank Index, made up of the very companies the policy was supposed to nurse back to health?
The above commentary comes from a simple but important postmortem of the Fed's now-infamous policy by Jed Graham in IBD.  I recommend heading over to read the whole thing before the Obama & the Beard begin their next wacky misadventure.
Source:
Fed Asset Buys Give Stocks A Boost — And A Hangover (IBD)