I jokingly trademarked "Face-Ripper" or "Rip Your Face Off Rally" although the term has been kicking around forever.  I'm just the guy who brought it back from the dead this week and introduced it to the masses.
I'm reminded that the term came from the CBOT floor in the late 1980's, a period of similar volatility prone to wild rallies.  Here's the actual definition from trader Roland C: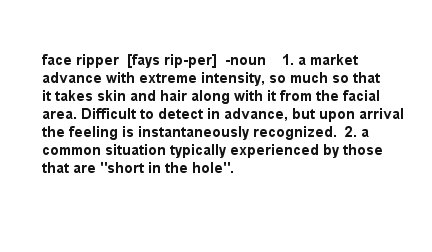 To take it a step further, Robert "The Stock Sage" Sinn  has an expaqnded definition up today about how the face-ripper comes about and what conditions are necessary for it to occur.  It is, by definition, a bear market phenomenon to be sure…
There has been a lot of talk of a potential "rip your face off rally" over the past couple of days. So what does one look like? First of all, you will know it when you see it and before you can blink the market will be 3%+ from its lows. Second of all, these sorts of explosive rallies are typically bear market phenomenons. We had a minor ripper in June- early July when the market rallied roughly 8% over eight trading sessions. However, you have to go back to the flash crash to see anything truly explosive and before that you really have to go back to the 2008-2009 time frame.
Head over to Chez Robert for more on face-ripping rallies:
What Does a "rip your face off rally" look like? (Stock Sage)