What's the hottest pistol in the gunfight right now?  The Belle of the Ball in a market that's been absolutely bludgeoned as everyone runs for safety and blows out of stocks?  How about a vehicle that goes double-long gold while at the same time goes double-short the stock market?
Check this bad boy out: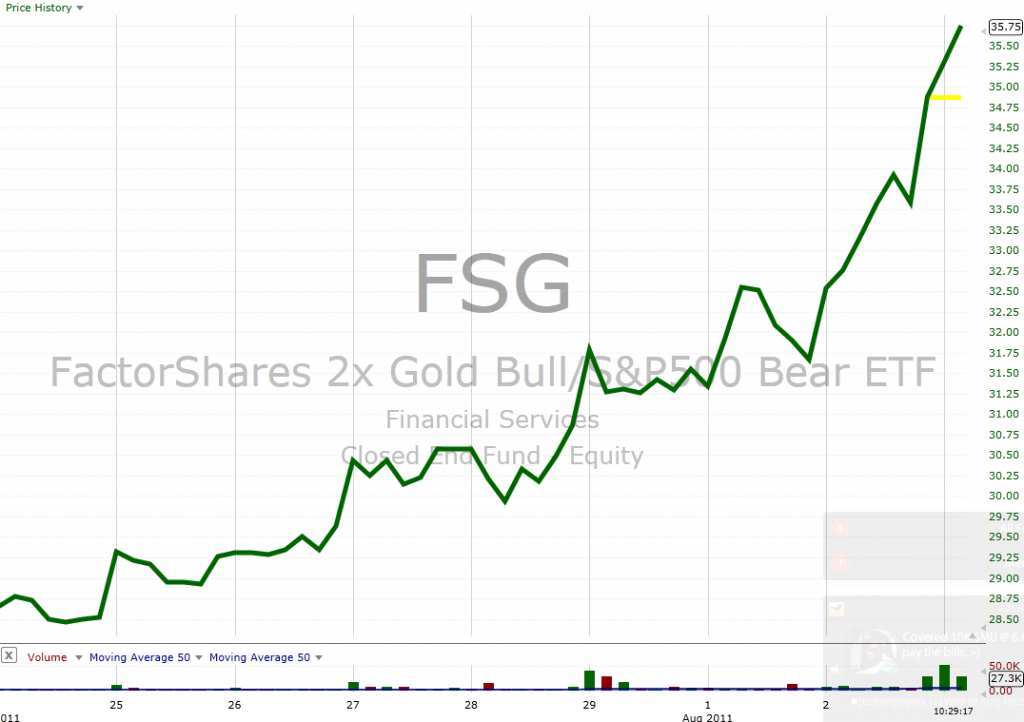 The funny thing is, you couldn't invent a better ETF for this very moment in time.  I don't do product endorsements or buy recs so please don't interpret this post as such, I'm simply pointing your attention toward the fact that there is an ETF for every moment and this is the one that has totally owned this one.
Yesterday I spoke with the creator of the fund, FactorShares' Director of Operations Matt Brown (who is no relation but is a TRB reader).  He explained the mechanics of how the fund operates and what it's meant to accomplish.  $FSG is registered under the 1933 Act (commodities pool) as opposed to the exemptive relief provision of Investment Company Act of 1940 (like most ETFs).  It uses futures (e-mini for S&P 500 and rolling GSCI for Gold).  Like any futures-based product, it is subject to contango risk (although hopefully less than a UNG-type fund because of how liquid SPX and Gold futures markets are) and it obviously works best in trending markets (today is the 8th straight day of down stocks and up gold, how about that for a trend?).  Matt tells me there is a daily rebalance to ensure dollar neutrality.
The all-in management fee gets up to about 1.13% but when you consider that the fund is 2X leveraged on both the long and short side, that works out to a more reasonable number when all is said and done.
FactorShares launched FSG in February and the fund currently has $6 million in assets.  Volume seems to be picking up as more traders discover it.  Many of my fellow bloggers write about spread trading and the relationship between stocks and gold.  Now they have a new proxy to follow.  Historically that's been a mean-reverting relationship but the world has changed quite a bit these past 5 years so, ya know, choose your own adventure…
I urge anyone who's interested in learning more about FSG to check out the FactorShares website here:
http://www.factorshares.com/education.aspx
These aren't your grandaddy's ETFs so please do your homework and understand the risks before doing anything.