On June 8th I wrote a post called "1250" as that major line of support loomed large on the screens of traders everywhere during the summer sell-off:
The number on everyone's tongue is 1250.  That's the S&P 500 support level that every single trader I talk to is focused on right now.  1250 is both a support area as well as the S&P's simple 200-day moving average.

Look at the Google search results for the term "1250 Support S&P" – there are 15,200 entries for that term in the last 24 hours, homeboy.

You don't need to "believe in technicals" to understand this concept, it is a supply-demand thing and a possible gauge of whether or not the appetite of the investor has changed.  Even the bottoms-up fundamentalists are rattled – they are watching this level too, no matter what they say publicly.
July turned out to be rock n' roll month for the market and the usual momentum faves took us higher – Apple, Amazon, Netflix etc.
But now attention is back on that 1250 level for the S&P.
Here's a chart I nicked from my pal JC Parets (All Star Charts):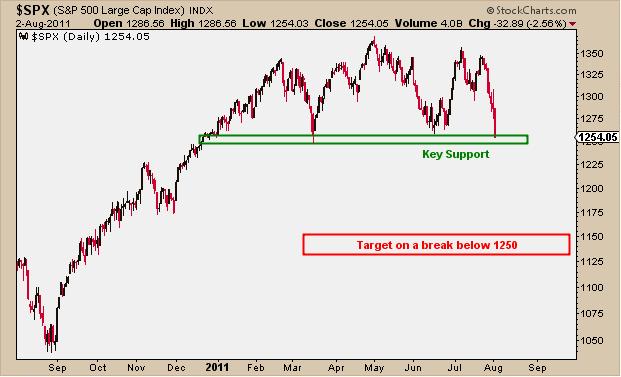 JC quotes Mary Ann Bartels (technical analyst for B of A Merrill) as saying a real plunge below 1250 opens us up for a drop to 1140.
And over at the HCPG Blog, they're looking at the same area for clues:
We've written for months about the big kahuna, the March 2009 trend-line, and how we would stay bullish until market proved otherwise with a break.  Well guess what, it's here.  We believe we're at the most important inflection point since the March 2009 bottom.
To be certain we've tested this level and violated it…but it's still too early for the bears to claim any kind of decisive victory.  But knowing this support line and what it means to traders becomes very important here.