Whew, what a day!
Sorry I've been a bit incommunicado all day, this is a market that requires two eyes on it and two hands at the ready.  Most of my day was spent lightening up and making sales.  The deal in congress aside, we're seeing decelerating economic data, rotten internals, broken charts everywhere and the specter of a ratings downgrade hanging over our heads.  This August, we're living by the ancient Wall Street wisdom that it's better to be out wishing you were in than to be in wishing you were out.
In addition, based on our research, this morning's nasty reversal for stocks portends plenty of not-so-great things for the major averages over the short-term.  See the 3-minute Dow chart below encompassing Friday's close and this morning's action: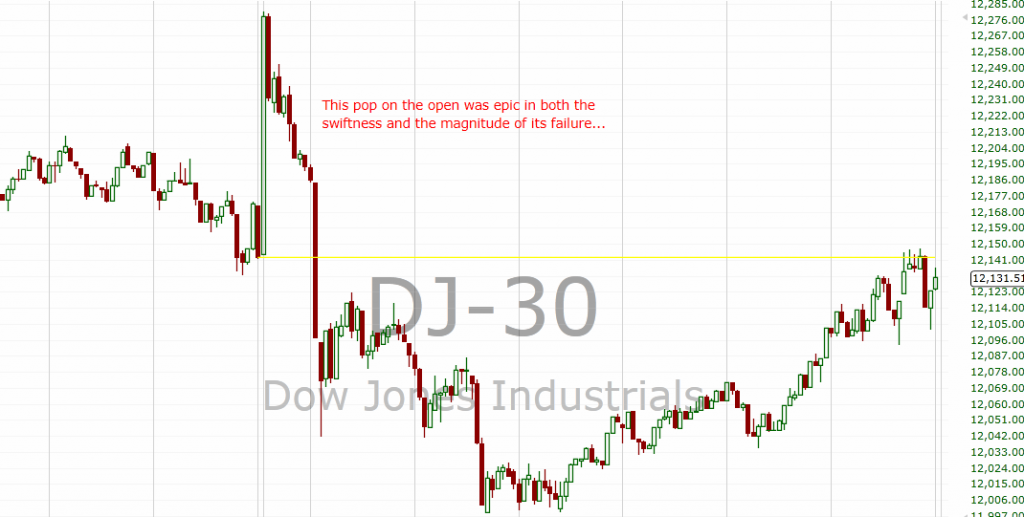 Today we took our cash positions up to roughly 23.5% across all Core Model accounts – conservative, moderate and aggressive.  We do not make a move like this lightly or based on only one or two indicators.  Below is a portion of the Tactical Alert that went out to clients this afternoon:
The markets have been trading rather sloppily since the debt ceiling Kabuki dance has taken over Washington. While Wall Street assumed some sort of deal would get done, the way DC went about it very likely damaged the reputation of the US in the eyes of the world. Today, the market opened strongly on the news of a deal, but faded fast. This lack of follow through is concerning. Intraday reversals do not give one much confidence that a new leg upwards in markets is about to begin. If anything, it is more evidence of a potential topping process for the broader market.

Because of this, we lightened up a bit on a few specific asset classes in our core allocation portfolios. Emerging markets, smaller cap, some technology, and the most aggressive allocations were jettisoned as a form of risk management. We still have substantial US exposure, bonds, commodities, big cap and value. I'd like to wait and see how things develop before pushing more positions out the door. Given the decelerating economy and the sloppy trading in equities, we will be watching internals very closely. The most recent market action makes us believe that the risk is to the downside. – Barry Ritholtz
The vast majority of our standing equity exposure is now of the large cap, dividend-oriented variety and bonds represent anywhere from 19.5% to 51% of our various models.
Please keep in mind that the information related above is not a solicitation to buy or sell any securities and is for informational purposes only.
See ya tomorrow…
Tags: $DIA