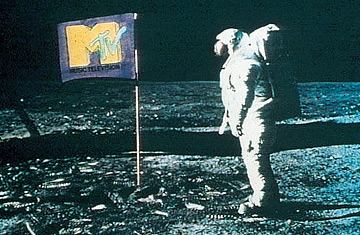 Does anything on earth suck as much as MTV?  Impossible.
But I was there in the beginning, before the pregnant teens and the endless Osbourne Family-wannabe shows and high school docu-dramas and all the other hideous garbage that no one watches.
I was there when it was just 24 hours of bands adding mind-blowing visuals to their music with cutting edge directors and envelope-pushing conceptualization.  Now I watch MTV U, which is aimed at college kids but is truthfully the last bastion of actual new, cool music videos left on the dial.
Anyway, this weekend is MTV's 30th birthday.  Hilariously (and because they're afraid to cut away from the pregnant teenagers for even a second), the tribute will be shown on VH1, and not on MTV itself.  Why am I not shocked?
From Rolling Stone (which also now sucks but for different reasons):
MTV launched on August 1st, 1981 at 12:01 a.m. The first images broadcast were the launch of the Apollo 11, followed by a video for the Buggles song "Video Killed The Radio Star." The network has gone through countless permutations since then, but this weekend VH1 Classic will commemorate MTV's founding with a three-day marathon of footage from the 1980s, including a re-broadcast of the network's first hour, starting Saturday at 6 a.m.
My earliest childhood memories are of Martha Quinn and Madonna and the law firm of Duran & Duran.  It will be kind of cool to take that stroll back, so I guess I'll DVR it.
Source:
Original VJ Mark Goodman recalls network's first days: 'I think we only had 300 videos' (Rolling Stone)