Looks like the pessimists have it as 41% of you think that no matter how this afternoon's voting shakes out, the ratings agencies are kicking down the door this weekend.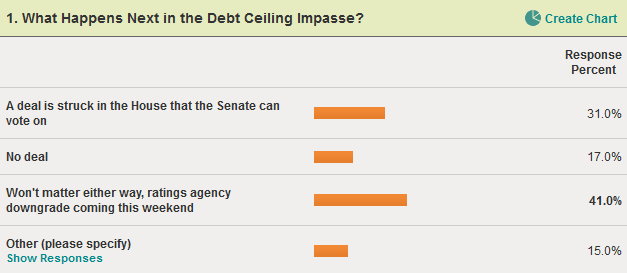 As to the 15% of you with "other" responses, a few of you called me fat but there were some interesting takes:
"I woke up this morning dreaming of a replay of the October '88 crash. Given that the market is not completely breaking down today, I don't think it is as likely as I thought. However, there are some striking similarities. I do think a downgrade is coming, and I doubt we will have a deal by Monday. Either way, I do not think the market will tank in the coming weeks, but instead continue to base or move higher."
and
"deal in house to so speaker can save face, quickly voted out in senate and 1st and 10 do it again over the weekend"
and
"Live Karaoke"
The stock market would seem to disagree with you as it has been steadily gaining back this afternoon (so far). Crisis Fatigue anyone?