After months of rumors from commercial real estate brokers, we finally get confirmation: Apple ($AAPL) is coming to Grand Central Terminal!
From the New York Post:
Tech giant Apple has inked a 10-year deal with the MTA to open its largest store in the world in Grand Central Terminal.

The 23,000-square-foot store will take up Grand Central's north and northeast balconies, displacing Charlie Palmer's Metrazur restaurant, according to MTA documents.

Apple will initially pay rent of $800,000 a year, nearly half a million more than Metrazur paid.

After 10 years, the rent will balloon to more than $1 million annually.
I've worked down the block from Grand Central for eleven years now and can confirm to you all that this is a very cool thing.  The only thing that facacta Metrazur place was good for was sneaking into the bathroom on the way to the train.  For those unfamiliar, the store will inhabit the West Balcony, across the terminal from Michael Jordan's Steakhouse.
Someone did a photoshop over at Gothamist when the rumors first surfaced which is hilarious but probably far from what the store's reality will be: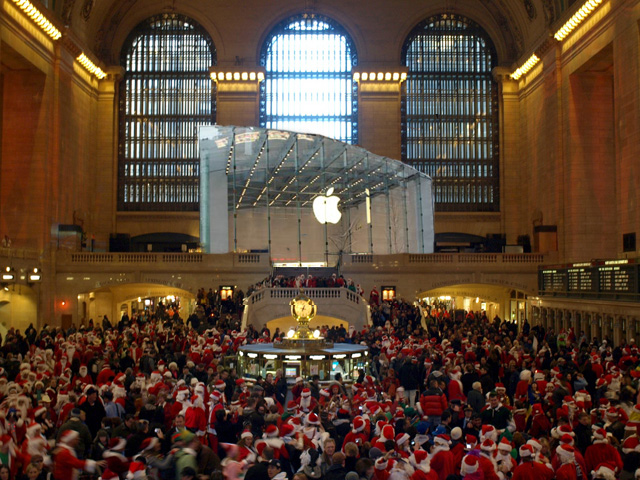 And for out-of-towners wondering whether Grand Central Terminal is the same thing as the oft-repeated Grand Central Station, they are one and the same.  But since no trains go through  and all routes end actually end here, it is a terminal and not a station.
What a pedantic New York ass**** I can be sometimes 🙂
Anyway, no word on when, there are a handful of MTA approvals that must come first.  Given that this looks to be a $5 million profit for them, I can't imagine any stalling.
And no confirmation yet on the rumors about the Port Authority Bus Station getting a Microsoft Store but we'll keep you posted…
Source: