Now things get interesting…
The risk-on, risk-off seesaw has lasted for quite some time and has conditioned market participants to treat stocks, precious metals and other commodities as essentially all one trade, up and down together as a function of the weakness or strength in the price of the USDX.
Not so much at this stage of the game, says Alex from Lighthouse Investment Management…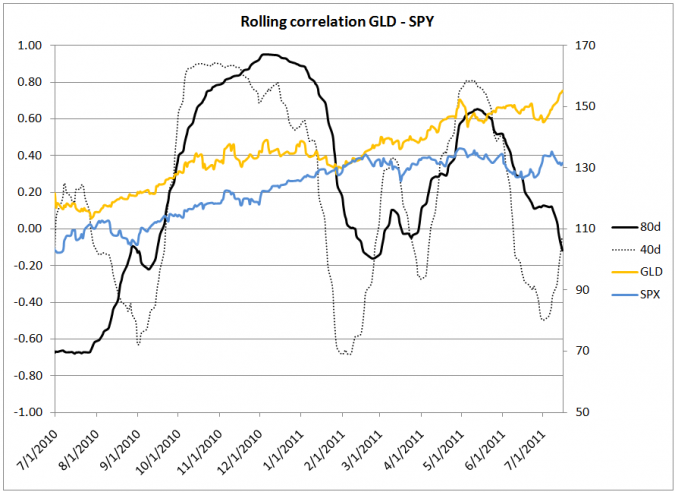 Now I understand that this chart (and its interpretation) may be somewhat controversial and everyone will have their own opinion about the timeframe used or what the reasons behind the phenomenon might be, but to me this is a wrinkle worth paying attention to.
Here's Alex:
In the above chart you will see that correlation actually varies wildly (between -0.6 and +0.9)…

Recent weakness in marco-economic indicators took a toll on stocks while gold managed to reach new record highs. The reasoning could be that the worse the economy gets, the more likely the Federal Reserve Bank will unleash more quantitative easing.

As long as the stock market does not show signs of serious trouble the Fed seems unlikely to act; the current "decoupling" (negative correlation) is therefore expected to continue for the time being.
For more on what seems to be happening here, head over below.
Source:
Gold and stocks love inflation, right? (Lighthouse)
Tags: $GLD $SPY