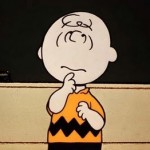 Do investors read the fine print?  Do they read it but not understand it?  Worse yet, do they read it and then act as though they're invincible because of the fact that they've been warned?
In my latest piece at the Wall Street Journal, I look at exactly this conundrum…
I went to a party in the Hamptons this summer that was being thrown by a bigshot nightclub promoter in his backyard.

At the door, we were all asked to sign a waiver to get in.  This was in broad daylight at a house party.  No matter, sign it if you're coming in, we were told.  Me and the other three hundred or so people at the party signed whatever it was and got down to business on the dance floor.  Just kidding, but it was fun.

The point is, not one of my fellow partygoers actually read the waiver.  I didn't either…
Read the rest below!
The Charlie Brown Syndrome (WSJ)