The below comes to us from Pew Research from a larger report on smartphone internet use: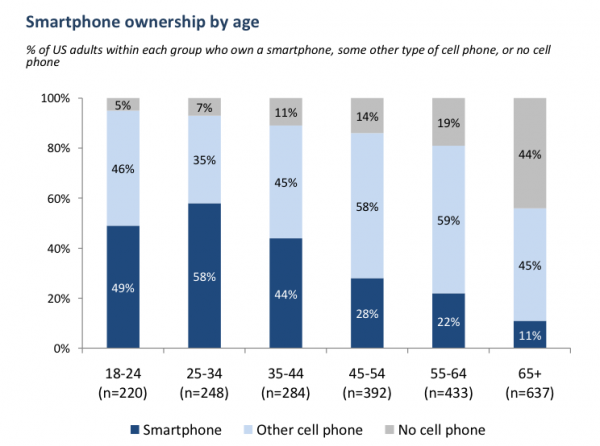 OK, it's the second chart of the day (see Lehman-cello?) but here are some observations worth considering…
1.  Smartphone penetration is probably nowhere near where you thought it was.  Here in Midtown Manhattan nobody would dare pull out a cellphone without apps for fear of public shaming but apparantly, things are different elsewhere.
2.  The fact that there is so much room for more growth suggests great things for certain component suppliers whose circuits and glass displays are ubiquitous and not dependent on one OEM (full disclosure – I'm long $QCOM from the high 40's).
3.  Old people are really slackin' on their pimpin'.  Aren't there apps for them, too?  Nutrition or health apps and photo-sharing would seem to be natural categories that would interest our grandparents, someone needs to get on that.
4.  Even the 25-34 year-old demo is smartphoning less than I would have thought.  Are they waiting for free phones from the carrier?  Free data plans?  Interesting
What does this chart tell you?