One of the lynchpins of the bull case for stocks in the second half has been the corporate profits engine that has defied all other economic weakness singlehandedly.
My friends at the Notorious B.I.G. show us that analysts are more pessimistic on the earnings picture than they've been in quite some time.  The below analyst revision set is based on the S&P 1500: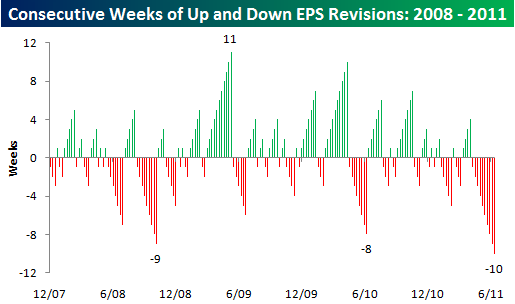 Says Bespoke:
Going back to the end of 2007, this is the longest such streak of declining analyst sentiment that we have seen, even surpassing the nine week streak that we saw in the aftermath of the Lehman bankruptcy.  Looking at this data, it is hard to argue that analysts are positive heading into this earnings season.
If overall earnings growth is a key part of your investment thesis for 2H, you may want to reconsider a bit.
Source:
Analyst Sentiment in the Dumps (Bespoke Investment Group)
Tags: $SPY