Welcome to Guest Post Week here at TRB.  One of the coolest things about the financial blogosphere is that everyone brings a unique perspective to their market commentary based on their area of expertise.  Robert Sinn has a very special voice in that he brings both a deep understanding of the macro picture along with the technical trading chops that make his knowledge base actionable for readers.  Not only does he run real money professionally, he also maintains a consistently good site called The Stock Sage.  Here's Robert on the elusive "edge" that all traders seek. – JB
***
All market participants are constantly trying to either find an edge or to improve an existing one.
Some have a significant edge which is proven by years of strong performance while others may believe they have an edge over a short time frame, only to be sorely disappointed by poor results in the long run. Without getting too granular with regard to the meaning of what an edge is in the context of markets, I would like to recount a story which I believe provides many kernels of wisdom that can be applied to markets.
My father can be described as a businessman/inventor/investor, he holds a Master's degree in systems engineering and operations research from the University of Pennsylvania and has always been mathematically inclined. In the early 1960's he invented a desktop stock quotation system which used data packet transmissions through phone lines, this was the first of its kind and an early forerunner of the internet. The company, Ultronic Systems had a partnership with Reuters, and was later sold to GT&E (read the entire story in my father's words here).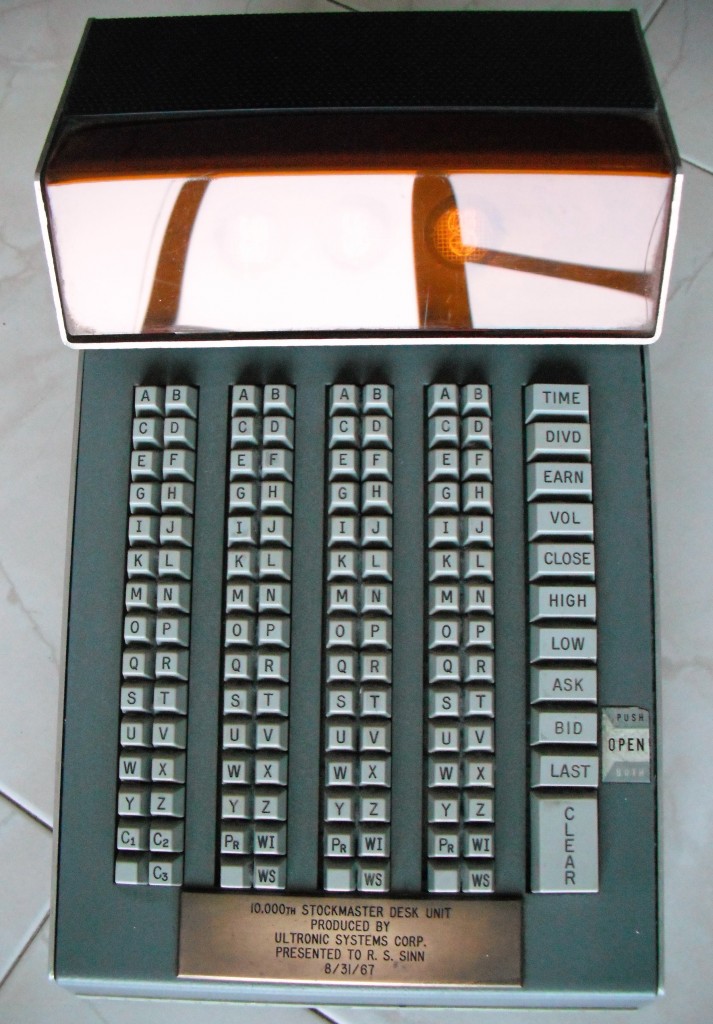 During the summer of 1975 my father read a book by a guy named Andy Beyer entitled "Picking Winners". The book had a tremendous influence on him and ideas for creating a mathematical formula to help handicap horse races began forming in my father's mind. He programmed an IBM 5600 computer such that numbers could be input from the Daily Racing Form and the program would generate "speed numbers & track variants".
He began by 'paper handicapping' races at Aqueduct and Belmont (similar to paper trading in financial markets). Once the speed numbers had proven to hold a high degree of predictive power, he decided to make the journey from Manhattan to Saratoga for the famous Saratoga meet which occurs each August. Saratoga was the perfect testing ground for a race handicapping system for the following reasons:
Saratoga was the premier race track in the country where all the best jockeys, horses, and trainers came to give their best showing. There was none of the shenanigans that went on at smaller stakes races at other tracks i.e. race fixing.
August has always been a month in which many NYC'ers head out of the city on vacation. Saratoga was filled with unsophisticated gamblers ("dumb money") who were betting for entertainment purposes.
Saratoga offered the best odds (similar to low commissions and tight bid/ask spreads in markets) and deepest betting pools (liquid markets) in the entire country.
The handicapping system primarily consisted of the computer generated speed numbers (how many people were using computers to handicap horse races in 1976?) although there was a touch of user discretion involved. For example, if the speed numbers indicated that there were two clear favorites in a particular race but the odds at the track placed one of the horses at 8-1 odds while the other horse was 3-1, my father would bet more on the 8-1. This was essentially an expected value calculation (similar to risk/reward calculations that traders make every single day) made at the track based upon the current odds.
Moreover, if the speed numbers showed that a particular horse was the clear favorite and the track odds were too low, my father would not bet the race; for example, if the horse was a heavy favorite, 2-3, the expected value wasn't high enough to make it worth wagering (akin to knowing when not to trade in markets). He would also increase and decrease the size of his bets based upon his expected value calculations for each race (similar to position sizing in trading and investing).
For eight years (1975-1982) the pilgrimage to Saratoga became an annual event in which my father averaged monthly profits of over $10,000 using an average bet of $100 per race. Over this eight year period my father's system correctly handicapped over 30% of the races at Saratoga. The system was also implemented at other tracks with slightly worse results, although it was still profitable. During the mid '80s the State of New York raised the "track take" from 14% to 18% which made it virtually impossible for even an expert handicapper to win over the long run.
This final point of realizing when the odds have changed and coming to terms with no longer having an edge is especially important for traders. I have known many traders who have had edges for significant periods of time only to see the markets change and their edge vanish. One trader whom I know had a system which made over $16 million between 2001-2002 using NASDAQ price movements to predict moves on the NYSE. In 2003 he lost $20 million when he was unable to come to terms that his system no longer worked, the market had become more efficient and the tables had been turned on him. Markets are always evolving and edges are transitory by nature.