The May Non Farm Payrolls report was a disaster – albeit a well-telegraphed one.  That it coincided with the wind-down of QE 2 turned the Fed's policy from an object of suspicion to an object of utter ridicule.  The fact that unemployment continues to disappoint is one of the primary contributors to the current correction in risk assets we're experiencing.
Here's how the job market looks by region as of May 2011, via Gallup from their "Job Creation Index" – a look at hiring and firing nationwide:
Job market conditions are best in the Midwest at +17, followed by +15 in the South. Job conditions improved the most in the West in May, climbing to +12 from +9 in April and +2 in May 2010. Conditions in the East, at +13, are currently about the same as those in the West.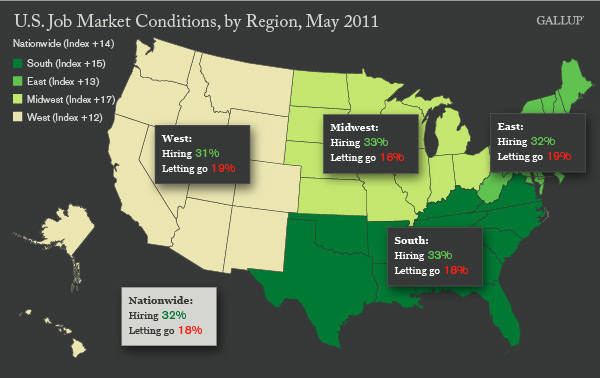 Source: