In case you didn't know, the New York Federal Reserve has begun blogging, their site is called Liberty Street.  This week we get some thoughts on how they see inflation along with a component heatmap:
Inflation has picked up in the last few months. Between June and November 2010, the twelve-month change in the seasonally adjusted consumer price index (CPI) was stable, at slightly above 1 percent, but it jumped to 3.1 percent as of last April. Higher food and energy prices have been an important factor behind this pickup in "headline" inflation. However, core inflation has also increased; the year-over-year core CPI (excluding volatile food and energy prices) moved from a record low of 0.6 percent in October 2010 to 1.3 percent in April.
Here's their breakdown of core and non-core expenditures: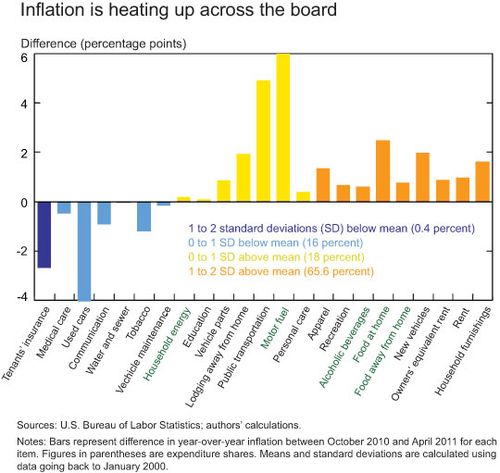 The Fed is acknowledging the uptick but notes that we still don't see any red bars for a particular category – this would indicate an inordinate and de facto inflationary reading.  We simply aren't seeing that yet, even in food and energy.
Source:
A Closer Look at the Recent Pickup in Inflation (Liberty Street)