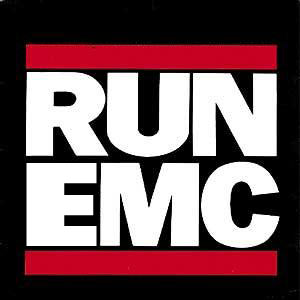 While we're all bitching and moaning about do-nothing old tech stocks like Microsoft and Cisco, EMC has very quietly been running like an escaped convict trying to stop his baby mama's wedding before its too late.  Run, Jimmy – I just know she still loves you!
What was I talking about?  Oh yeah, so EMC has been an absolute wildebeest over the last year returning a jaw-dropping 52%, almost a double over the tech-heavy Nasdaq (as seen below):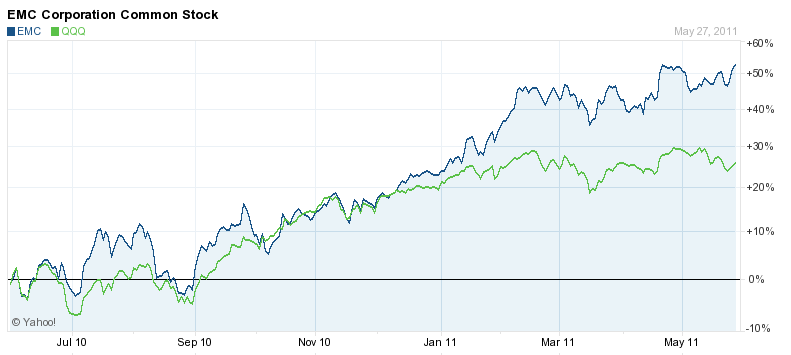 Why, while its old tech brethren are sleeping so soundly, has EMC been such a great performer?  They have something the others don't – secular growth.
EMC plays in the data storage sandbox almost exclusively and the need to be able to store (and access) data in a scalable way has never been greater.  It also shows no sign of slowing down ever.  We're not exactly on a trajectory of creating less digital stuff now, are we?
I'm not in the name personally, as far as storage names my only pure-play at the moment is Network Appliance, but the story there is pretty much the same.  When I looked at the numbers between the two companies, however, I was amazed to find out that EMC is outspending its smaller rival NTAP in R&D in a meaningful way, $2 billion annually versus $600 million.
Equally amazing is that EMC has been smart enough to hang onto their single best asset, an 80% stake in virtualization monster VMWare (VMW).  They bought VMW in 2003 for about $600 million and they have since seen a 65x return on it.  Ridiculous!  I'm sure over the years there have been some tempting opportunities to have divested of it but the company hung in there knowing that the best was yet to come.
I think the message is that storage, unlike desktop software (as in the case of Microsoft) or physical routers and switches (as in the case of Cisco) is still a growth business.  EMC has done a lot right, don't get me wrong, but what really separates them from their fellow 90's era stalwarts is the business they are in.  In the tech sector, end demand makes the stock, not the other way around.  This is something the value guys need to keep in mind when hunting for bargains in the large cap Nasdaq names.
(yes, I know this graphic is gangsta and if anyone from EMC corporate wants to make t-shirts, all I ask is for a size XL mailed my way)