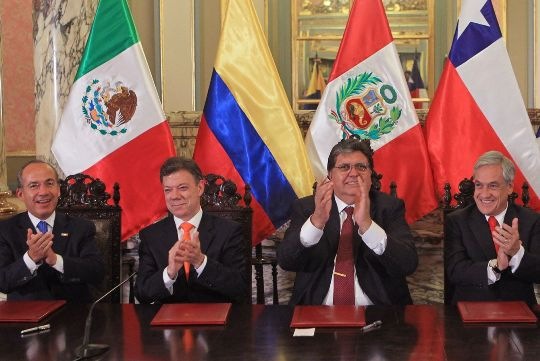 The winner countries are separating themselves from the loser countries in Latin America and alliances are forming to widen the gap even further.  In the red corner, we have the Bolivia-Venezuela Corridor of Counter-Productivity.  Ok, they didn't come up with that appellation, I did, and if I see it on a t-shirt I'm going to want my royalties.
In the blue corner, we have something new and exciting for those of us who are investors in frontier markets.  They're calling it the Pacific Alliance and it looks like a big winner for the countries involved.
From Christian Science Monitor:
Peru, Colombia, and Chile will formally merge their stock markets Monday, creating the second-largest bourse in Latin America after Brazil and promising to increase liquidity in the mineral-rich Andean region.

The market alliance of the three right-leaning nations spanning most of South America's Pacific coast gives investors better exposure to assets linked to the region's natural resources and its rising middle class. And coupled with their recently announced plans with Mexico to form an economic bloc called the Area of In-depth Integration, the stock market merger creates a political foil to the Bolivarian Alliance of regional leftist governments led by Venezuelan President Hugo Chávez.
Just as a point of reference, here's the one year snapshot of the major ETFs for each of the three Pacific Alliance nations: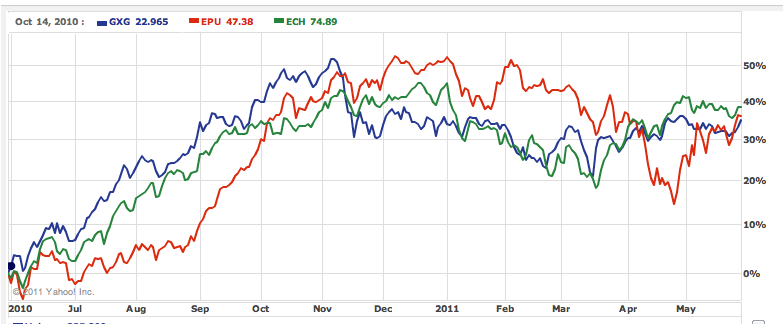 I was going to show a mushroom cloud as a graphical illustration of Venezuela's market but I figured that might have been overkill 🙂
By the way, there is a brand new ETF that owns all three of these stock markets in one, its called the Global X FTSE Andean 40 (AND), but its very new and only has $7 million in assets so far so I didn't want to get into it too deeply here.
I'm not playing Peru, Chile or Colombia individually right at this moment although I do have exposure through several broad funds.  That said, with this long-awaited teamup, I am more interested than ever, especially as a long-term investment.  As far as the timing, regular readers know that I expect a continued leg down in industrial commodities this summer so I'll be awaiting my opportunity at lower levels here as well.
Source:
Peru, Colombia, and Chile merge stock markets (Christian Science Monitor)
Read Also:
Getting Long Colombian Oil: Ecopetrol (ZorTrades)