This morning All Things D is telling us that social games company Zynga is poised to file for an IPO today.  Zynga was looking $10 billion-ish based on its last round of VC funding but the deal may price it higher because of the LinkedIn pop…
Whatever the price, a Zynga IPO is a major coup, especially given how quickly it has morphed into one of the most important forces in online gaming, largely via distribution on the Facebook platform.

The company claims that it has 250 million people actively playing its games every month. Its largest game currently is CityVille, which attracts 90 million monthly users, reports AppData. Its original Poker game still manages to attract 35 million monthly users.
In the meantime, check out the Notorious B.I.G.'s graphic of top ten IPO first-day pop stars for the cycle: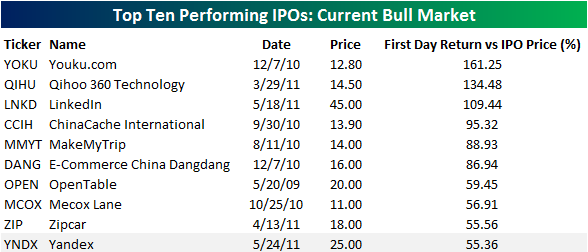 Will Zynga's deal be priced too high to pop like these did?
Sources:
Exclusive: Zynga About to File for IPO (All Things D)
IPO Market Heating Up (Bespoke Investment Group)