Goldman's made two big calls this morning, one of them has to be wrong.
One of the most hilarious sequences in the The Greatest Trade Ever is when John Paulson and Paolo Pelligrini are listening to two concurrent Goldman Sachs conference calls about real estate and mortgage bonds.  The two calls coming from the same firm are 180 degrees apart in terms of tone – one bullish, one bearish.
Pellegrini enrages Paulson when he becomes unable to contain himself, jumping on the line to say that maybe these two analysts "ought to be talking to each other".
The argument has always been about whether Goldman talks out of both sides of its mouth on purpose to favor either banking or trading clients, depending on which group's success would be more beneficial to the firm.  Or perhaps it's more innocent than that – maybe Goldman's analysts simply aren't talking with each other enough.
This morning, there is a major call out of Goldman Sachs to get back into oil and other commodities.
At the same time, Goldie has an analyst warning The Street of a "significant slowdown for China".
It is impossible for both of these to play out concurrently.  China is Commodities, Commodities is China.  Here's a reminder from GMO's Jeremy Grantham about China's commodity demand percentages in chart form: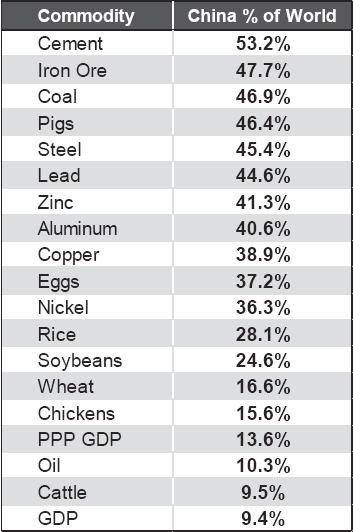 Obviously, when China is responsible for more than a third of the world's commodity demand, a "significant slowdown" there is not a buy signal for the hard assets trade.
Now Goldman is a large, global firm so perhaps the team in London making the commodities call was ignorant of the China slowdown call.  You can give them the benefit of the doubt.  Or, you can wonder whether one GS trading desk is selling into this call to someone else.