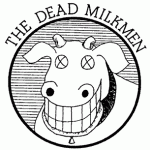 May is officially Dead Milkmen Month here on TRB. I really don't care if anyone doesn't like that. It's happening and we'll all be better people for it.
So it's 1986 and the boys release their next tape, 'Eat Your Paisley'.  I'd call it a disc but they didn't exist, I'd call it a record but we all had the cassette tape.  I was only 9 so I didn't get around to this until a few years later but even then, I got the tape. From Tower Records probably and I'm sure my mom was waiting in the car.  Whatever.
Anyway, on Eat Your Paisley, the songs get a bit longer than from the Big Lizard debut album (we're talking 2 minutes and change versus 1 minute and change) and the boys get slightly better at playing their instruments.  I think.  Here's my fave track off that tape, Beach Party Vietnam, enjoy!