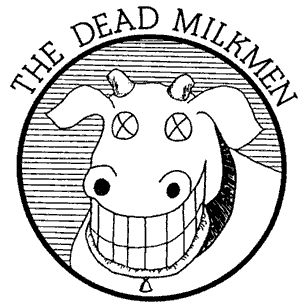 May is officially Dead Milkmen Month here on TRB.  I really don't care if anyone doesn't like that.  It's happening and we'll all be better people for it.
My favorite band of all time has just reunited and put out their first new album in 15 years.  They're called the Dead Milkmen and from the mid-80's through the mid-90's they put out some of the snottiest, funniest, most satirical punk rock music you've never heard.  I'll get into why the band is so important to me as the month goes on.
If you know them, then the various posts I throw up on the site this month will bring tears of joy to your eyes.  If you don't know the Milkmen, what I'm about to do will ensure that your life won't have been wasted and lived in vain.
Here's a taste below, it's the track Silly Dreams from their 1992 misunderstood masterpiece "Soul Rotation".