You hear it again and again: X percent of (insert emerging market nation) is under the age of 25.
Meanwhile, you also hear about the aging of this or that developed nation in contrast immediately afterward.  Europe has been graying for years, the US is OK only because of our immigration policies.  Japan is so old the entire island is going to need a diaper strapped around it soon.
While it may be true that Western populations in the US and Europe have forgotten how to have lots and lots of babies (I haven't), we certainly aren't having a problem with finding and electing younger leaders.  Check out this chart from The Economist: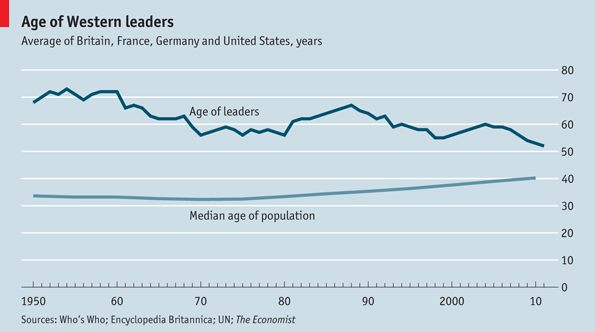 There's something to be said of learned old men and women and wizened elder statesmen – but there's also something to be said about the ambition and ideological innocence that can only be found in younger pols.  To find ourselves with leadership somewhere in the middle is a good thing, especially when you watch all the septuagenarians in the MENA region cling relentlessly to power.
By the way, I can't help but assume the power of the internet is somehow behind this ongoing shift to younger western leadership…
Source: